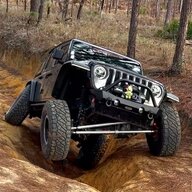 First Name

Roky
Joined

Oct 4, 2018
Messages
Reaction score

14,166
Location
Vehicle(s)

2018 JLUR
Build Thread
Vehicle Showcase
This winter I started noticing and troubleshooting the same shimmy on my '18 JLUR. Only noticeable at speeds under highway, say under 50mph. Definitely not death wobble or bump steer. 37 Toyo MTs on 17" Icons., 2.5" MC Gamechanger with HD steering and updated stock stabilizer and aluminum steering box. Little to no problems with tracking straight. Recent overdue tire rotation eliminated slight pull to right but shimmy still there.

Having broken 20K miles I suspected OE ball joints but they check out okay. All adjustable arms and bars tight. Only thing that changed was cold temps and subsequent tire pressure drop from my standard 28 to as low as 25 when temps below 30 degrees.

Considering an adjustable stabilizer to get that shimmy out, I brought rig in for third free oil change. Told dealer not to rotate tire as just were done. Left dealer and noticed shimmy SEEMS to have disappeared. What changed? They filled tires up to 33 lbs. Now wondering if the D rated MTs could be flexing at lower speeds causing the shimmy. Dropped pressure to 30 and will continue to monitor. Could it be this simple?
Don't trust ball joint check test, especially after 20k and 35 or 37s. I've replaced to sets that were bad , and tested no movement. Just .02..