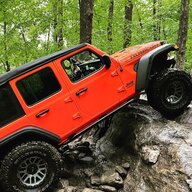 First Name

Scott
Joined

Jun 12, 2018
Messages
Reaction score

404
Location
Vehicle(s)

2019 JLUR in Punk'n Orange
Examples: Something like an LOD Destroyer Rear Tire Swingout or Smittybilt Atlas vs. something like a Motobilt or an Ace (Not Mopar, Rugged Ridge, or Smitty/Spartacus). .

I get that the bumper mounted one moves the tire outward and puts all the force on one point. I understand you'll have a better departure angle with an HD hinge replacement type of carrier. Not necessarily looking for that kind of feedback, more Looking for input and first hand experience with both. Drawbacks, flaws, etc. 35's -40's.

For a long time, I was of the school of thought I'd rather have the weight of the tire off the tailgate. I had swingouts on both of my TJ's. I understood the drawbacks of the swingout, but ultimately i thought the positives outweighed the negatives. I started looking at the Ace and Motobilt, the heavy duty hinge replacement types that are capable of carrying 35-40's. I thought I was sold on that. Then a friend who is a mechanic at a Jeep dealer posted some pictures of a JLUR with one of those kind of carriers, with stress cracks where it attaches to the body, and the tailgate cracked and bending. The Jeep was only using 35's. It seems you may still be beholden to the limits of the mounts in the body.

I'm not buying yet but I am curious. my plan is to run 35-40's with a full size spare. it's a daily driver, so no, running no spare is not an option. Likewise, neither is putting the spare inside.

Curious of the collective experience of the forum. I've seen good evidence and arguments for both, but I'm starting to think about cost vs. effectiveness.