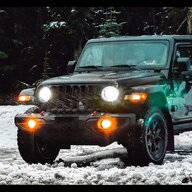 Joined

Nov 28, 2019
Messages
Reaction score

265
Location
Vehicle(s)

JLUR Benz Porsche Subie +
What was the leaking water issue??
Completely flooded driver footwell. Also footwell behind driver. Small amount under footwell behind passenger. Passenger footwell dry. Small drips from freedom top hitting center armrest storage bin. Everything corrected but you have to dry out for about a week with carpets all left lifted otherwise pan will stay saturated. Positive is pan looks to have a clear rock solid epoxy type sealer over the metal.
Is very hard to know for sure unless you actually lift the carpet. As can feel completely dry on top but is still fully saturated below. Is a very extensive list as shown. So get a leak specialist vs some random FCA tech. Is a very common problem on the JK. Someone we know asked me if the JL also had this problem as she wants to sell her JK to get rid of this problem. She has massive footwell flooding every time it rains. Unfortunately I had to tell her. Youtube has a bunch of vids on this as well.
As noted all these stupid QC issues are a complete PITA but the JL is such a capable vehicle it still makes it worthwhile for us. This thing really is a rock crawling beast when pushed. As driving on smooth tarmac is child's play. The JL craves roads that are rough gravel with huge potholes and washboard. Medium sized rocks and small boulders just coming into its element.