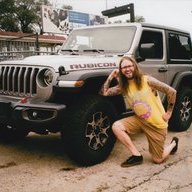 First Name

Derek
Joined

Aug 27, 2019
Messages
Reaction score

181
Location
Website
Vehicle(s)

2016 BMW M4, 2020 JL Rubicon
Occupation

Software Engineer
Vehicle Showcase
I don't plan on doing anything too crazy, but I wanted to use this space to document mods with my first build thread.
Backstory
I've always driven 2-door coupes and hatchbacks. My current car is BMW M4, which has been my only vehicle for the last few years. I live in Iowa and didn't wanna drive my M4 in the snow - so I decided to uber around town on bad weather days... Last year, we had a terrible winter where I wound up ubering for months.
... that winter is ultimately what led me to buy a Jeep.
First, I decided that I wanted to find a cheap 4WD vehicle that could get me around in the winter but also be used in the summer. I wanted it to be something fun, but a different kind of fun than my M4. Trucks don't interest me, most SUVs are boring, and I didn't just want an AWD car. A Wrangler fit the mold perfectly. It's 4WD, convertible, easily customizable, capable of towing a small trailer, something to tinker with, and something that would give me the types of fun that my coupe doesn't.
Getting to a 2-door JLR
I quickly realized that wranglers retain their value ridiculously well and that finding a good, cheap used one was nearly impossible... I also learned that the model that I liked the style of the most (the YJ) was one of the worst models made. So then I started looking at TJs and JKs until I learned just how much better the JLs are... so I eventually decided to just bite the bullet and get exactly what I wanted in a new JLR. And I stuck with what I've always owned, a 2-door.
Goals
capable winter vehicle
fun year round
something to give me what my coupe doesn't
coolness factor (gadgets, tech, add-ons)
get off-road
Plans
I live in Des Moines, the capitol of Iowa... which is unfortunately not the capitol of off-roading. This vehicle will be on paved roads 99% of the time, which makes me sad, but I'm actively looking for spots nearby to get this thing off-road... and hopefully take some road trips in the future for more fun.
This Rubicon is already more capable than I need, so my mods will be fairly minimal but I'm already tired of it looking like every other stock Jeep on the road. I want it to be different but also tasteful.
I've spent HOURS digging through forums, parts websites and instagram to get an idea of what's out there. As soon as I think I've seen every set of side-steps or bumpers, I learn about some random shop in the middle of nowhere crafting their own badass products. These machines are true "hackers" vehicles, and as a software engineer, builder, and tinkerer - that excites me.
Everything in
italics
is not done yet.
Exterior
Interior/Cargo
Technology
Protection
Recovery
Tops
Sunshade?
Netting to keep the pup inside when the top is off
Dreaming about a fastback style soft-top that is capable of being a sunshade or totally folded down
The wishlist keeps growing, so I'm worried about my bank account, but I'm also very excited to mildly build this (bought) bad-ass vehicle into something cooler.
Initial regrets
I go back and forth about the color every day. Some days I love my Billet Silver. Other days I wish I had Mojito, White, or Black. I also go back and forth about whether I should've gotten body-matched top and fenders.
I sometimes wish I would've gone with the 2.0 turbo for the better MPG... and because turbos are fun.
And totally a first-world problem, but I definitely regretted not getting the proximity door lock/unlock feature. My wife and I have it in our other vehicles, so I was constantly walking up to my Jeep with full hands and then have to dig my keyfob out. I was luckily able to retrofit this kit on later, thanks to Z-Automotive and AllMoparParts.com.
Also a first-world problem - I didn't get parking sensors because it seemed like that would make aftermarket bumper shopping easier... but now I've almost backed into a couple things because I'm so used to the parking sensors on our other cars.
Delivery day photos
Now


Last edited: