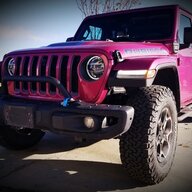 Joined

May 12, 2020
Threads
Messages
Reaction score

960
Location
Vehicle(s)

2021 JLURe Tuscadero, Black '05 Silverado
Vehicle Showcase
I know I'll probably take a hit here on this story and thought, but eh, it is what it is.

I was driving into drill this weekend, Saturday I believe, when I saw a dark green Bronco headed the other way. Either a woman or a thinner man in the drivers seat, all bundled up. How did I see them? Because the top was down, the doors were off, and they looked content as hell.

And it struck me. At least some of them are not so unlike ourselves.

See I'm not brand loyal. I'm just not. I don't like how Ford does business. I'll always steer clear of their vehicles, especially when it's anywhere near their warranty end.

But I bought a Jeep because #1 my wife wanted one due to our YJ in Hawai'i. #2 because it checked all the need boxes. #3 because it's THE only rig on the market that goes naked, and that's fun as hell. There's NO other experience than going naked on a mountain road, radio playing, having some snacks and drinks, the kids bickering in the back and my wife's hand in mine.

And I've realized since our first Jeep that, up til now, owning a Jeep Wrangler requires a certain mindset. I read a good metric that said, "If you have a Jeep for a year, you'll know whether it's for you or not."

Well, as much as I personally don't care for the Bronco, seeing them on the freeway this weekend... they'll never get a wave, but I shot that person a nod from a kindred spirit.