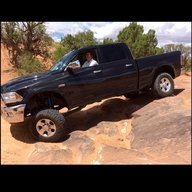 First Name

Eric
Joined

Feb 4, 2018
Messages
Reaction score

192
Location
Vehicle(s)

2018 Granite Crystal Rubicon 2.0L (ordered on 2/12 received on 9/26)
Yesterday I stopped at Rydell Jeep (San Fernando CA) to test drive a Rubicon. Mainly because I got worried from reading how cramped the cabin is for people over 6'2".
Anyway, I pulled over to test the lockers. Put the Rubi in 4L and pressed the locker switch. Nada. Then the 'SERVICE LOCKERS SOON' notice flashed in the center screen while the amber 4WD light remained flashing even in 2H.
There was 20 miles on the Jeep.
The salesman assured me that NOTHING was really wrong and the Rubi just needed a re-flash.
PS I included a picture to show the diff in height between the Sport and Rubi.
EDIT TO ORIGINAL POST: I was testing to see how long it took to engage. My Rubicon was usually instant while my PowerWagon took it's own sweet time. I'm not a rookie. That said, you shouldn't feel the need to defend a faulty JL and I have no idea how the 19 miles before me were driven.
Last edited: