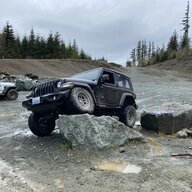 Joined

Sep 16, 2020
Messages
Reaction score

812
Location
Vehicle(s)

2020 JLUR, 2018 Subaru BRZ
Build Thread
Occupation

Comptroller
Ok, I've been through a few revisions. I'm trying to recapture all of my plans and thoughts so that anyone else interested in similar things can see why I did or didn't go with the parts:
Concept 1) Stock. I planned to custom order a Sahara, I didn't think I'd need much at first. I figured I'd just enjoy it as is, conquer trails, and have fun.
Instead, I ended up buying a used JLUR. A doctor bought it for his wife, drove it home, and she rejected the manual transmission. He drove it to a land rover dealer and bought something. I test drove it with under 75 miles, and ended up buying it. Steel bumpers, M/T Rubicon JLU, heated seats/wheel, HD Electrical/Towing group, hard top. I originally was interested in leather seats, but thought I'd go Katskin for cooled leather seats in addition to heated.
Concept 2) Clayton Offroad 2.5" overland+, 37" Irok Radials, Hutchinson Rock Monster 17x8.5" wheels, 5.38 gears, Apex Badlands 12k winch with synthetic rope, Maximus-3 Winch plate, Smittybilt 2781.
I was still new, I hadn't thought much through and was trying to find my way. The mod bug had bit me. I got through one gatekeeper and didn't feel I could handle much on my own. The winch was most important, to get me out of trouble. To be clear, I don't think poorly of any parts I didn't end up using/planning. They all seem phenomenal, but I ended up doing some adjustments in what I wanted. Also, I bought a soft top from another forum member. I still haven't used it as of the time I posted this, waiting to install the hoist in my garage.
First Steps) Clayton Offroad 3.5" overland+, 37" Irok Radials, Hutchinson Rock Monster 17x8.5" wheels, 5.38 gears, Apex 12k, Maximus-3 Winch plate (purhcased), Iron Cross tire carrier plate, ViAir 400p Automatic (purchased) with 7-pin adapter
At this point, my wife's family farm came up for sale and I had to stop purchasing things. The winch plate sat in my garage, and I was basically back to concept 1. I had bumped to the 3.5" lift because I thought the flexibility would be nice of exceeding 37" tires. Some of my first outings I was already dragging my belly. I was starting to read about driveshaft issues with 3.5"+ lifts. I thought I'd operate as-is until I tore my CV boot, then upgrade.
Next Steps) Maximus-3 3.5" geo lift, 37" Irok Radials, Hutchinson Rock Monster 17x8.5" wheels (ordered), 5.13 gears, Apex 12k (purchased), DV-8 JL tire carrier, RSE Sliders with drop steps.
I had my CB radio installed at this point. The Maximus-3 Geo-lift convinced me that the drop-brackets for the front control arms helped pinion angles enough I didn't have to worry about a new driveshaft. I chose to drop to the 5.13's because of the slightly higher strength (to my understanding), and I realized to push beyond 37" tires would put me in a position I would need to consider axle upgrades. It seems 37" tires can be handled with the JL D44's if you're careful, but I'm not so confident in 38.5 or 39.5 sizes. The DV-8 tire carrier didn't require a new bumper, so that seemed prudent. I also bought the hi-lift brackets from Dominion Offroad for tucking under the hard top.
Origin of Build Log) Maximus-3 3.5" geo lift w/ Falcon 2.1 Shocks (ordered), 37" Irok Radials, 5.13 Yukon Gears (scheduled for install in July), Maximus-3 JL Sport Tire Carrier (ordered), Poison Spyder JL Knockers (+ steps), Artec aluminum full skid plate system.
My wheels have shipped, my lift and tire carrier might have shipped Friday (waiting for confirmation), my re-gear is scheduled for 5.13's. I went full Maximus-3 because I'm originally from the metro area of Detroit and like supporting a local company. The tire carrier allows me to keep the steel bumper I have, and will transfer the weight to the tub; so all the things I liked about DV-8, but from home. I have an inquiry in with a "local" Washington company about the Poison Spyder Knockers to replace my Rubicon rock rail. 4WheelParts has the steps in stock. I think the quickly removable steps are a small price to pay vs the fancy Rock Slider Engineering steps with their sensors and things plus the $500 skid plates for the sliders. Especially for the savings. I'm hoping to head down to 4WheelParts Lynwood store soon and talk tires. I might do the Bias Irok's, or just stick with BFG M/T's. I've got an inquiry in on the geo lift thread to to see what other people are doing, and at which offset. I've also got balancing beads on the way for my stock 33's to move them onto my wheels, but I might just buy/install 37's right onto the Rock Monsters. I'm a bit worried I need to install some mesh to keep the beads in the tire chamber and make sure they don't end up between the rim and the beadlock. I've also read about high-steer issues with frame contact for some people. I think they all had excessive sprung weight, so I think I'm safe. If not, I'm thinking of adding some spacers and shock extension brackets, but still have research to do. I also considered the MORE steps, but since they seem to require partial removal of the rock rail I'm thinking I'll just switch totally out to a more robust solution. Also, my off-road group is considering switching to GMRS after I asked and installed a CB since that's what the leadership insisted they used. I've got some FRS hand-helds to tide me over, but now I might put a MOLLE panel overhead to hand all my radios and handsets from.
I'll try to get caught up with pictures of my progress on individual installs and edit as I make further changes. This rig was originally only my poor-weather commuter and weekend rock crawler, but my car got rear-ended and I'm trying to get rid of it now (after repairs). That's changed a bit of my outlook on the Jeep, but I'm hoping once supply comes back up I'll be able to order a Camaro to use as my daily driver in fair weather. This made steps more important, since it's already hard to get into when I'm having a bad back day, and my wife is a bit shorter than me. She has a nice crew cab Colorado that we can use with company, and on truly bad days I can ride with her to work. We're blessed enough to work in the same building.
Last edited: