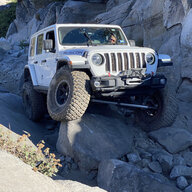 First Name

Bryan
Joined

Oct 21, 2019
Threads
Messages
Reaction score

359
Location
Vehicle(s)

2020 Jeep Wrangler Unlimited Rubicon 3.0 Diesel
Build Thread
I've had some KM3s in 39's for a while now, and I've been rather happy with them. I've had a couple of discussions with some friends, and a YouTuber I follow recommended I do a review.
I drive a 2020 Wrangler EcoDiesel Rubicon, with a 4 inch lift and the stock 3.73 gears. The Front axle is trussed and has RCVs, the rear axle is stock. I've got 71K miles as of this writing.
On May 19, 2021 I bought a set (5) of BFG 39 Inch KM3s for $436 per tire. These replaced the 38 Patagonias that I was running. I run them on a set of Edge Wheels Beadlocks. (Edge Wheels are now out of Business, but the wheels were made by Weld Racing Wheels. Weld now sells them and calls them Ledge Beadlocks W901.)
Tire Weight: The wheels were chosen because they were the lightest beadlocks I could find at the time and weighed about 25LBS each. The tires are about 88 LBS, so this makes about 113 per tire/wheel combo.
Balancing: The KM3 39s balancing took a lot of lead, but it balanced. I noticed one of the tires was slightly out of round, but it didn't cause a problem until much later, so I ran it anyways. After about 10K miles, the out of round tire needed rebalancing, and caused a minor shake at highway speeds. I should have called and started a warranty claim, but oh well, it was easy for me to live with.
Noise Levels: I drive on the highway about 80% of the time to and from work. I'm also getting older and the noise is starting to bother me, so I measured the noise from inside the Jeep. Noise levels are measured with a hard top, Factory Hard top insulation, and windows up on my apple watch. (The apple watch not perfect, but I've found it to be consistent with decibel meters we use at work, and I always have it on me). After about 1k miles I measured the noise at 65MPH. Most of the noise was wind noise with very little tire noise, this showed 69 Decibels. It's very easy to hold a conversation on the phone through CarPlay, and with 1 or more passengers in the jeep. At 40K miles is when I started noticing the noise was increasing. 40K miles at 65MPH the noise measured 71 decibels, and the tires are making a little bit more noise than the wind noise.
Tire Wear: The tires have been rotated at roughly 10k mile intervals, not as often as I'd like, but I have 4 rotations and 40k miles, so oh well. The spare hasn't been rotated in, so it a 4 tire rotation. Both back tires go to the front, the fronts swap sides and go to the rear. 3 tires have worn very well and show no signs of abnormal wear. The out of round tire has worn very well, it's still making a slight shake at highway speeds, but I only notice it if it's a front tire. One of the tires has developed a slight cupping type wear, which may be from the shocks, or my longer rotation intervals. This cupped tire is the one I believe is responsible for the extra road noise as it seems to be coming from the side that that tire is on.
Tire Performance: I've taken the Jeep to several trails, driven in the rain, been through some mud, but mostly it's been driven on the highway as it's my every day driver. On the dry road the tires are great, even as tall as they are the Rubicon's brakes are very powerful and it can stop very quicky. In the rain, they are not very good, which it true for pretty much all mud tires. The brakes can grab a lot better than the tires can grab the wet road; better give yourself some following distance or your going to be testing the ABS! This also goes for acceleration on wet roads. My EcoDiesel has 440ftlbs of torque, even with the stock 3.73 gears, they spin easy on water. On The Rubicon trail, and in Moab, I air down to like 7-12 PSI. I've only been on these trails in dry conditions, and with being aired down like this, they grab very well. They do very well in that dry dirt and sand found in those areas. I hate mud, so I tend to avoid it. The tires clear mud very quickly, but the sticky mud needs a little wheel speed. These tires seem to excel in clearing the treads in soupy mud at a lower wheel speed. One of my favorite places is the San Juan Mountains in Colorado. Poughkeepsie Gulch, has an obstacle called "The Wall". I tried "The Wall" after it had rained, and made it up with very little difficulty on full pressured tires. They slipped a little, would have been better to air down, but I was impressed with the tires and not airing down. (I didn't air down because I hate mud and didn't want to get my shoes and interior dirty. I'm sure there is one of us in every crowd.)
Gas Milage: Yes, milage dropped. With those big tires you're pushing a lot of air out of the way. I didn't drive on my stock tires for very long, but I got about 23MPG on the stock setup with me hauling ass everywhere. I had 38 inch Patagonia's, and these KM3 39's and they both get the same 21MPG. I typically drive 65 on the highway to and from work. One time I tried hypermiling with the 39's and got 29.8MPG for a whole tank. When I drive across the Country, I haul ass and drive 85+. In West Texas the posted speed in 85mph in some places so I'll be driving 95. That gets like 18MPG for the whole tank.
Notable defects and tire damage: I already mentioned one of the tires was out of round, but it is only a minor annoyance and had to be rebalanced twice. One of the tires had cracks going through the tread blocks. That was weird, it went down almost all the way to the to the base of the tread. As far as I could tell, this was not caused by off roading on the Rubicon Trail or in Moab. I did get some small tears, leading edge wear, and small chunks gouged out by rocks while off roading, but as the tires have worn they kind of disappeared as the miles have been racked up. I never have a problem with the sidewalls while off roading, but I did run over something at a construction zone and poked a couple of holes in the sidewall. I had like 4 little rods sticking out, 2 in the sidewall, so I just plugged them and they've never been an issue.
Conclusion: I really like these tires and since I have one good tire as a spare, I've elected to buy 3 more. Apparently, they are very hard to get right now, and the price has gone up like crazy! I found 3 tires at 4WheelParts for $750 each! I figured I'd buy them and store them until the summer. I'm planning a Moab Trip this summer, and I'm thinking all have 55k miles by then. I'm not very optimistic that I'll get 55k miles, but I don't want to find them on Back order when I need them. After this next set is worn out, I might try a hybrid or A/T that is a little quieter on the road, but these tires have treated me very well, even with the couple of defects I've seen.
Edit 2/21/23
I swapped out the shocks and continued to drive on this set of tires. As the miles racked up, I noticed them getting quieter. After 1200 miles, the road noise from the tires has lessened almost to where it was when they were new. I'm measuring 70db now at 65.
The tires have 44,257 miles on them now.
Last edited: