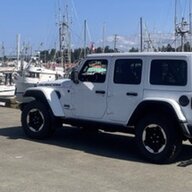 First Name

Bruce
Joined

Sep 27, 2020
Messages
Reaction score

6
Location
Vehicle(s)

2020 JLU Wrangler Rubicon,
I did my first flat tow of my 2021 JLUR in Texas. It went pretty well.

I have updated my document

Tow Checklist Jeep Wrangler 2021.pdf

(PDF) with some changes from the experience.

The significant change was with how to set up and initialize the RVi Brake. I have a feeling that if the Start button is in anything other than OFF, the Wrangler may recharge its brake cylinder, and the first braking of the RVi Brake may be very strong and lead to wheel lockup and tire damage. This happened to me with my Honda CRV and I had to replace two tires because I ran the CRV engine after initializing the RVi Brake.

I also added an item on doing a short tow test, speeding up to 15 - 20 mph and then performing an Emergency Brake action to verify that the RVi Brake activates but does not lock up the wheels.
I'll be using all the same RVi equipment when I get done rigging out the JL. Thanks for posting your hookup procedure document.
Nicely done!