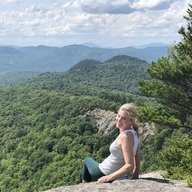 First Name

Jess
Joined

Nov 10, 2019
Messages
Reaction score

42
Location
Vehicle(s)

2020 JLU Sahara
Wanted to revive this thread, with a $31 fix for the uncomfortable headrest situation. I'm one of those that finds the headrest to be tilted forward enough to be forcing my head and shoulders uncomfortably forward in a normal seating position. I do suspect this has a lot to do with upper body length, with people on the short or tall end not faring well. Anyhow, I tried turning the headrest backwards but decided that indeed it made the headrest TOO far from my natural head position and increased my likelihood of whiplash. I decided to try adding a lumbar support cushion and headrest from Amazon, called LoveHome.
https://www.amazon.com/gp/product/B011BJX3JS/ref=ppx_yo_dt_b_asin_title_o02_s00?ie=UTF8&psc=1
I originally order this thinking the headrest was all I really needed but it turns out the combo fixes the entire problem. It allows me to move the seat back a little less upright and still be comfortable, while adding the headrest cushion to the reversed headrest to make for a headrest that isn't pushing my neck and shoulders forward while still being within an inch or so of my head. What I did was adjust the actual headrest (still reversed) up slightly so that the top of my head will still hit it if nothing was there, which allows the new headrest to sit in a good spot! SO MUCH MORE COMFORTABLE TO DRIVE AROUND! No longer having to choose between achy back on long drives or neck and shoulder strain.