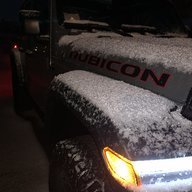 First Name

Michael
Joined

Mar 26, 2018
Threads
Messages
Reaction score

61
Location
Vehicle(s)

JLU Rubicon
Occupation

Railroader
Vehicle Showcase
I originally thought 'Wow, these stock LEDs are amazing! I'm not going to need lights after all!" As amazing as they are, for street driving, there's still a lot of blind spots out in the dirt. So I'm considering 3 locations: Bumper, Cowl & Fogs.

Eventually I'd like to enhance the amount of light output going ahead of my Jeep, really reaching far out and lighting everything up nice and bright. With that I'll eventually decide on LP6's or a light bar on the bumper. (If I was buying now, I'd go with LP6). The 2nd location for updating would most likely be the fog lights. The stock fogs are pretty good tho, and not critical. My plan will be going with amber Baja Designs Squadron Pro-R's. I just don't know which lens would be best. Driving/Combo or the Wide Cornering.

This brings me to what I feel is most important to upgrade first. Cowl-Mounted ditch lights. The fog lights do an OK job at illuminating a nice wide spread ahead of the jeep. However I'm thinking some nice lights up on the cowl to illuminate any turnouts I come up to - without having to turn into them - is exactly what I need. I'm kind of undecided on my light choice. I'm diggin the S2 Pro's. I like that they're more inconspicuous than the cubes. However, the Squadron Pro's are putting out double the illumination since they're 4 LEDs instead of 2. Well, as I'm typing this I'm kinda selling myself on the Squadron Pros since the cost is negligible when comparing the results.

What I'm not sure about is whether the correct lens for this is driving/combo or Wide Cornering. Looking at their chart its going to be Wide Cornering but I thought I'd throw this out here for some outside input. Is there really any good reason to go with Amber up here, over white?

Finally - Prices... I'm on BD's website and their JL kit with the bracket is $505 after taxes with forum discount. It doesn't list which lens the kit has. On Amazon I found the same kit w/ Spot lens' for $463. BD has lens' listed at $14/each, still cheaper. Any where for better pricing?