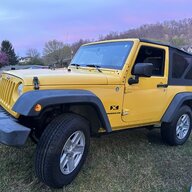 First Name

Scott
Joined

Oct 6, 2019
Messages
Reaction score

860
Location
Vehicle(s)

2018 JLUS, 2020 JLUR, 2003 TJ
Vehicle Showcase
I have a question about Oracle Rock Lights that are wired to my Auxiliary Switch...
++++++++++++++++++++++++++++++++++++++++++++++++++++++++++++++++++++++
I sent the following question to the tech at Oracle:
My wife had the Oracle 4-Piece Rock Light LED kit installed on her 2018 Jeep for approximately 3 months, we recently traded her 2018 Jeep for a 2020 Rubicon and moved the LED's from the old Jeep to the new Jeep...
The problem we are having is that the lights always default to strobe multi-color instead of Solid Red, we have to change it every time we crank the Jeep. (We have it wired exactly as it was on the 2018 Jeep through Auxiliary 4 with the same settings). When she opens the app, it shows "Yellow" as the selected color, but it's actually strobing the multi-color lights. When she changes it back to red, they work fine until the Jeep is turned off and then back on.
Any help would be greatly appreciated.
We have the 4 piece, Bluetooth only version
Here is the Tech's response:
Hi Scott,
The lights are reverting back to demo mode because every time you turn of the vehicle, power is being cut to the control unit. These control units do not retain memory if power is cut at the input. So, there are only two solutions for you here:
1. In Uconnect, change the setting for that switch to constant battery power and leave the switch ON
2. Disconnect the control unit from the switch panel and connect direct to battery
The Rock Light kit is made to be turned on/off with the app only.
Regards, JP
ORACLE Lighting
My follow-up:
Thanks for getting back to me, if I do solution #1, wouldn't that keep the lights on even when the Jeep is off?
If that is the case, why didn't I have that problem on the original installation?
His Reply:
The lights will remain on until you turn them off via the App. I am not too sure how this was working on the last Jeep. However, I do know that this is the only way these are able to function without needing to constantly reset.
++++++++++++++++++++++++++++++++++++++++++++++++++++++++++++++++++++++
So, my question still remains, how did they function correctly on Jeep #1, but not on Jeep #2 with the exact same setup??
I set up the Auxiliary switch #4 with the same settings as it was in the 2018 Jeep, connected it to the same wire (purple), etc. I feel like there has to be something that has changed with the Oracle unit itself.
Any suggestions on what we can try?
@ORACLElights