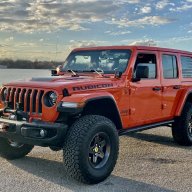 First Name

Jim
Joined

Aug 11, 2019
Messages
Reaction score

919
Location
Vehicle(s)

2020 JLUr
I know there are a few posts about this and I have read through every one at least a dozen times. I'm also not new to Jeeps, I have had a few Tj's and built a few Lj's before going to the JL platform. I have dealt with steering and suspension issues plenty of times but for some reason I can't get the shimmy/wobble issues fixed on this damn thing.

2020 JLUR with 12k on it and no issues until a few months ago, had the tires rebalanced and installed the Dynatrac lift right about the same time. That's when I started getting a wobble going over bumps or washboard sections of road. Not full on death wobble but a shimmy that lasts past the initial bump in the road.

The Jeep has the following:

Dynatrac lift
Clayton control arms (8)
Clayton front track bar (also had a Synergy on it)
Rock Crawler rear track bar
Rusty's steel steering system
Dana HD ball joints
Synergy Track bar brace
New cast iron box
BFG KO2's 35's
Fox Race stabilizer


Caster is at 7 right now, I have tried 6,6.2,6.5,6.8,7.2
Toe is right around 1/16-0
Tire pressure cold is 28
Both axels are centered within 1/8
I have torqued and re torqued everything at least 10 times
If I do another dry steer test I am likely to set it on fire.
road force balanced the tires 5 times (They re

Other than the shimmy/wobble the thing drives absolutely fantastic. The shimmy honestly feels more pronounced when you first start driving the Jeep, as things heat up or settle in from driving it seems to calm down a bit. Big bumps don't really seem to effect it much, smaller dips and bumps in a row are what seem to trigger it. Also grooved concrete seems to make it more pronounced.

What the hell am I missing???? I'm about at the point I am going to try replacing the tires but I'm not sure that is going to do it. I have thrown way too much time and money in this thing over the last two months. I sold a mint well built Lj to get this thing because I was tired of projects, I worked less on that than I do this thing and I literally rebuilt that thing from the ground up.