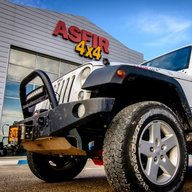 Member
Rock Sponsor (Level 1)
Hey JEEPers!
For those of you who don't know us, we are ASFIR 4x4. An Israeli based company. We design and manufacture ALUMINUM skid-plates armor for various off-road, 4x4 vehicles. You can check us out here -
ASFIR 4X4 | Off-Road Protection & Armor - https://www.asfir.com/
We're looking for a stock Diesel Wrangler JL and/or a Gladiator JT for a quick 3D scan as part of our R&D process for a set of new skid plates for the Diesel version!
We'll be offering the newly designed skids as gratitude for the prototype truck
The modeling will happen in the greater Phoenix, AZ area through next week.
PM us for further details here or at
[email protected]
Let's make it happen
Cheers!
Reut @ ASFIR