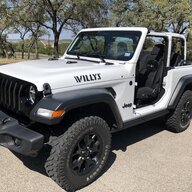 First Name

Joe
Joined

Jul 2, 2020
Threads
Messages
Reaction score

8,520
Location
Vehicle(s)

2020 JL Willys 2 door
Occupation

Wandering Vaquero
https://www.msn.com/en-us/money/com...4b3c2d6d1e768cd&ocid=winp2fptaskbarhover&ei=8
I must say, the amount of new owners posting here has dwindled. Also, the amount of brand new heavily modified Jeeps have dwindled.
Part of this is the strange economy we are in right now. The other part I can fix for Jeep real easy. If only someone there would read this forum once in awhile
1. Quality control. The little things become big headaches for owners, especially when getting things fixed under warranty is so difficult. Want to reduce warranty costs? Build a better vehicle. That simple
2. MSRP. Not just Jeep, but every manufacturer read the winds wrong two years ago. People were standing in line and handing dealers money, many over MSRP, for anything that would show up on the lot. Most manufacturers were hit on both sides from increases in supplies and passing it on, to just not taking time to understand why so many were paying so much. So, they just keep raising prices and that took the dealer "market adjustment" away. Well, the buying public adjusted all right, to thinking that the 5 year old vehicle in the driveway doesn't look so bad now. Lower the prices.
Jeep could also cut costs, passing that to the consumer with reduced prices, by reducing complexity. The ESS, two battery system is a pain in the ass and has caused customers to become disgruntled and dealer service departs to be constantly dealing with battery warranties, in 2023! I thought battery tech was entering a new age. Let's not even start to talk about paint issues around the door and hood hinges.
Ford just announced that they are significantly reducing the complexity of the F150 and cutting the MSPR thousands, as early as 2024 models. Following a major refresh, that can only mean that they are de-contenting, perhaps getting rid of one or more of the luxury models.
I'm really surprised that Jeep added more complexity in the 2024s, giant screens on all models, more and more sub models with more stuff. Hell, that damn grille is significantly more complicated than the traditional one it replaces.
Complexity leads to less reliability. People are tired of things breaking and going in for warranty work and recalls. Granted, much of what breaks is "tech", what we used to call electronic gadgetry. Ford's Sync3 has been a disaster. Their 10 Speed automatic, co developed with GM, has also been problematic. Looks like Ford came to their senses. Let's hope #Jeep follows.
The entire economy isn't in the sewer yet. Businesses are still hiring. Home Depot has been crazy busy the last few months, houses are still being built around here, and there are new highways being built (no tolls here in San Antonio/Bexar County!).
I'd say that the biggest problem with sales numbers right now, as far as we the buyer are concerned, are steeply rising MSRPs combined with interest rates that are no longer at record lows. One thing Jeep can somewhat control, the other they can't. The decision is simple if you are sitting in their C suite.
Last edited: