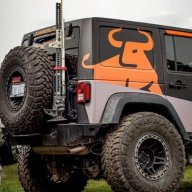 Well-Known Member
Peak Sponsor (Level 2)
First Name

Kail
Joined

Jan 15, 2021
Messages
Reaction score

183
Location
Vehicle(s)

JLU Rubicon, JKU Rubicon, 64 C10, 61 Panhead
Occupation

Glorified Floor Salesman
GoArmorlite.com
When developing Armorlite one major key point to the performance of our product was to reduce heat coming from the floor boards.
Our Jeeps get really warm on the toe boards due to lack of insulation and the close proximity to exhaust components, add a hemi swap and you can cook an egg on that floor.
Besides just making the insulation thicker we used better performing materials, the dense polyester insulation has the best R value out of our water resistant materials. The top layer does a great job as acting as a thermal barrier but does not conduct the heat up to the surface.
We have a test facility that allows us to run vehicles in a controlled environment. It features a 4 wheel dyno that has drums that simulate road surfaces and resistance. We used the same testing equipment used for OEM applications to measure the performance of Armorlite compared to stock.
Armorlite Jeep:
Engine is stock, exhaust is stock, suspension and gearing upgraded, Armorlite flooring installed.
Stock Jeep:
.. its stock, same engine
Due to gearing the speeds were different but the RPM's and load maintained the same.
Hard data:
- After 30 minutes of testing, the Armorlite equipped Jeep kept the interior 12 degrees cooler
- After 3 hours of running the sheet metal under the Armorlite floor reached 240 degrees, at that point the Armorlite surface had a reading of 100 Degrees. This is a reduction by 140 degrees.
Here is Video of the test: