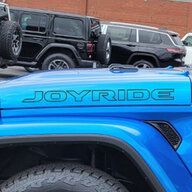 First Name

Ricky
Joined

May 4, 2021
Threads
Messages
Reaction score

2,570
Location
Vehicle(s)

2021 Hydro Blue Sahara Altitude
Build Thread
Occupation

Marketing
Jumping in before this thread derails from a civil conversation between Jeep lovers and into a different sort of thread, lol.

IMO, gas prices (particularly in the U.S.) have been artificially kept low for years, for a number of reasons. Now that the dam has broken, I doubt we'll ever see gas less than $3-3.50/gallon ever again. The oil industry has realized that they can charge basically whatever they want, and no one's really going to do anything about it. Why would they go back now?

Likewise, I think we're about to see a boom in the "electric" industry like nothing we've seen before. EVs are going to get better, and more affordable. Conversion kits and shops are already popping up here and there - I was reading about a shop in southern California who can convert damn near any vehicle you have (including old classics) to EV for $30-50K - that's MUCH cheaper than I'd have imagined.

Solar panels are going to get cheaper and more efficient - I see more and more houses around me having them installed. If we were planning to be in this house longer, I'd be doing the same, but we're planning to move in a few years. I will 100% put solar panels on the next house, cause ERCOT blows chunks.

As others have mentioned, in the short-term (~12-18 months) Jeepers will adjust. You'll tighten the belt in other areas to keep your Jeep running. I also think you're going to see the current used vehicle market (particularly ICE) pop very, very soon.

We've seen that Jeep is experimenting with full EVs, and personally, I can't wait. I have two friends who went full solar about 5-7 years ago. Panels on the house and full EV in the garage. Can you imagine the $$$ savings you'd see if you eliminated your power bill *AND* your gas bill?! They have - they've shown me their dashboards. They actually *receive* checks from the power companies most months.

I tend to keep my vehicles till they hit at least 200K miles, so I'll likely keep this Jeep for a while, but I fully believe it'll be the last ICE vehicle I own.

I'm pretty blessed - we were a single-income family for about 5 years while my wife got her Nurse Practitioner license. I've been fully WFH for 8 years now, and will never accept a commute ever again. Now she makes about what I make. We're definitely upper middle class, but we budget hard. Ruthlessly eliminate any necessary bills as quickly as we can, avoid monthly installment options like the plague, and operate on a "try to fix it before you replace it" model. I see others who eat out every meal, are on a first-name basis with their Starbucks barista, etc. We shop at Old Navy during sales and eat out with coupons or share a meal.