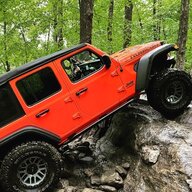 First Name

Scott
Joined

Jun 12, 2018
Threads
Messages
Reaction score

1,300
Location
Vehicle(s)

2019 JLUR in Punk'n Orange
Build Thread
Occupation

Turn Wrenches/ Write code
Ok, so I used the search and couldn't find a direct answer. If I've missed it, please direct me to the thread.

Please excuse my ignoranceStupid question: Are the Factory Aux Switched grounded? I know they have fuses (two 40amp, two 15 amp) but does this mean they're grounded, as in- I only have to run a power wire to whatever I am connecting?
And, if that is the case- what do I do with the ground on the device end (lights, compressor, etc)?

likewise, where are you factory Aux switch guys putting your ground wires?

Working on a couple projects in the back of the Jeep (reverse lights and a power hook up for a 30amp compressor) and I'm getting ready to start running wires, but as I was reading I realized I don't know if I have any good places to ground to- so I should probably check and see what others are doing.

thanks in advance as electrical is not my forte. In the past the most complex things I've handled is adding extra lights, and wiring a CB- both of which just went straight to the panel and grounded on some random TJ bolt.