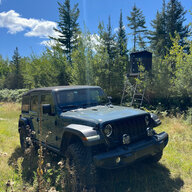 First Name

Chris
Joined

Aug 1, 2018
Messages
Reaction score

969
Location
Vehicle(s)

AP1 S2000, Rubicon 4xe
Occupation

Finance
Thought you guys might get a kick out of this. I work for a big German company, one you've heard of that has nothing to do with cars. My local office only has maybe 100 people, so you get used to the same group of cars in the lot every day, and nothing really stands out, lots of bland sedans and SUVs, with the occasional Mustang or Corvette, and a handful of Jeeps. I'm the only one who regularly strips their Jeep down (doors/top).

Today, being Friday, there weren't many people in, so I got a spot right at the front, and my jeep is running doors off Safari mode today. We have a group of 4-5 Germans in town who are working on something or other, all stuffed in a conference room together, and apparently they were all talking about seeing my Jeep in the parking lot.

Lunchtime rolls around, and a coworker and I go over to the local food truck lot, where we set up a table and chairs, grab some food, and are chowing down right next to the Jeep. All the sudden we hear in thick German "eetz zee car vrom zee office!" and they swarm around my Jeep, and start taking pictures and posing and everything. Cracked me and my coworker up.