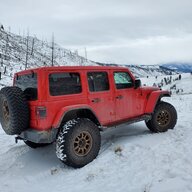 First Name

Roy
Joined

Nov 12, 2019
Messages
Reaction score

642
Location
Vehicle(s)

2020 JLUR 3.0 Diesel (FIRECRACKER RED), 2020 6.7L F350, 2011 QX56, 2005 5.9 Cummins
It was just 28 degrees outside this morning and neither was on this time. The other day it was 27 degrees and when I went out to check the Jeep both those convenience heaters were on and toasty.

My wife has told me a few times that these heaters weren't activated and I figured maybe it had something to do with the ambient air temperature not being quite cold enough. However, unless the activation point is 27 degrees, this doesn't seem to hold true. And I could almost swear there was a time or three recently at say 38-40+ degrees the heaters were on when I checked.

I'm going to try to keep better track, but I'm almost thinking this is some sort of temperature sensor issue. I just can't imagine a vehicle built with remote start in the last 10 years that doesn't have these types of heaters come on at 32 degrees fahrenheit or less. I thought most actually would come on about 40.

I did look through the settings the other day, but didn't find anything that looked amiss.

Oh yeah the high idle seems to be tied to the same system. I haven't heard it come on consistently.