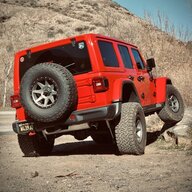 First Name

David
Joined

Sep 19, 2020
Messages
Reaction score

853
Location
Vehicle(s)

2021 Red JLUR
Ever since getting my 2021 JLUR, I've been doing minor work and upgrades on her and occasionally dabbling in minor projects. One of those projects was upgrading my Rubicon's interior ambient lighting system.
Here's my setup.
Instead of LED strips, I decided to go with rectangular light pods that contain 3 LED's, each with a translucent lens to soften the light:
The factory ambient lighting system contains one warm white LED in the driver footwell and one in the passenger footwell. My setup consisted of disconnecting those LED's and tapping into the ambient light positive lead, which was White/Light Green in my Jeep, and the ground wire, which was Black/Green (the Yellow/Purple wire is the courtesy lighting for when you open the doors).
The system consists of LED pod pairs in 9 different locations inside the vehicle; one set in each footwell, one set in front of the front seats and one set behind the front seats, and three sets for underneath the rear seats. Each set would contain two pods connected in parallel, so six LED's in total.
I'm not a big fan of T-Taps but I haven't discovered anything better for this type of scenario.
After installing the LED's and routing the wiring around the sides of the Jeep underneath the carpeting, I connected all Sets in parallel to keep the voltage at 12volts and I am not worried about the current load since each pod is only 0.72watts. My setup contains 18 pods split into two circuits, the driver side ambient wire and the passenger side ambient wire, so each circuit only has 9 pods, making it 6.48W, or 540mA.
Since the system is using the same circuit as the factory Ambient Lighting System, I have full control over the lights with the ambient lighting scroll wheel next to the headlight controls, which I can use to dim the lights or turn them off altogether. Also, since the Jeep turns on both the courtesy and ambient LED's when you unlock it or open the doors, this system also automatically turns on whenever any doors are opened or whenever the Jeep is unlocked.
I'm aware of the fact that not everyone in this forum is a fan of the color red! Fear not as there is an endless number of different color LED's that you can get online if you choose to tackle this simple project!
I unfortunately purchased these specific LED's at a local LED store so I can't give a link to it but any LED light can be used as long as they are 12v and don't have a chip that makes the LED change colors and do other tricks as those types will most likely not be dimmable with the dimmer scroll wheel in the Jeep. I hope this helps anyone who wishes to upgrade any of their interior lighting.