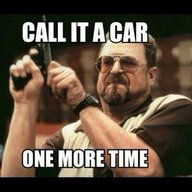 First Name

Mike
Joined

Aug 16, 2018
Threads
Messages
Reaction score

13,776
Location
Vehicle(s)

2019 JLUR Stingray 2.0 turbo
Vehicle Showcase
And I guarantee they are rated for higher loads than any stock knuckles, including steel.

The whole point in aluminum is light weight and I'll say this again, even though some of the resident metalurgists around here won't believe it. Pound for pound, aluminum is stronger than steel. So a pound of aluminum will have more strength than a pound of steel. The whole point is to get to the desired level of strength with less weight.

But comparing aftermarket steel knuckles or even OEM steel knuckles designed to handle more stress (392) to a stock knuckle that has a lower stress tolerance is not a fair comparison.

If you compared a JK stock steel knuckle with the JL (non-392) aluminum knuckle, I'd bet money the aluminum one is stronger and is designed to handle more stress than the JK.

What is being misunderstood is that I am NOT arguing that the stock JL aluminum knuckle is stronger than either the steel 392 knuckle or an aftermarket knuckle made for larger/heavier tires (as in 37+") That is not at all what I'm saying, so one must read very carefully before drawing that conclusion.
Oh, I'm not at all arguing the merits of the strength vs weight of aluminum knuckles. The pic of the shattered knuckle above is the 1st one I've seen. The more common failure is from a loose ball joint wallowing out the tapered holes. A simple steel insert could prevent that, as aluminum itself is softer.
If shape and structural integrity are optimized in a products design, aluminum will have the same strength as steel but at half the weight. Steel shines when it comes to its resistance to warping and being scratched or dented. Steel stands up better to extreme temperatures, whereas aluminum gets stronger in colder environments but higher temps can make it more susceptible to damage.
Personally, I'm a huge fan of aluminum in things like steering linkages, control arms, bumpers, and belly pans. Also worth noting, is I'm coming from the mindset of 4" lift and 40's and the beef to properly support them with a certain amount of overkill.