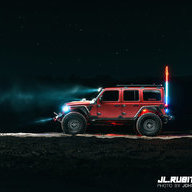 Well-Known Member
Rock Sponsor (Level 1)
First Name

Todd
Joined

Apr 18, 2018
Messages
Reaction score

531
Location
Vehicle(s)

2020 Gladiator, 2021 392 Rubicon
Occupation

Jeep Customizer
I've known the answer since day 1 when the kit went on. A brake upgrade has got to be on your short list for any decently built rig. My Alcon kit is 14.25 front rotor 6 piston calipers, and 13.85 rear rotor with 4 piston calipers. The clamping force is insane.
As it sits, I have an easy 600lbs on a stock JLUR, and much more rotating mass. From 60, I outstop a stock rig on stock brakes.
As tested in the below youtube link, I lined up with Kevin & Brittany for some 50-0 tests. They have the same suspension, same tires, same tire pressure and our weights were quite similar that day. from a mere 50 I was out stopping them by 3 Jeep Lengths. If you dont know how important that is...you need to. That distance increases exponentially at 60, 70 and beyond.
offroad testing is also an eye opener. 1st of all, the amount of pedal pressure needed is much lower than with stocks. I can drive around barefoot with my big toe...if i was in to that kinda thing. on a steep decline in 4lo, it grips like its being held by chains. the clamping power of these calipers handles it all.
Take a peek at the video...