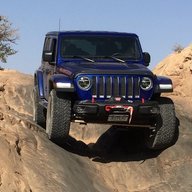 First Name

Tom
Joined

Dec 4, 2018
Messages
Reaction score

268
Location
Vehicle(s)

2019 JLUR, Ocean Blue
I installed a Corbeau lumbar support on the driver's seat of my Rubi. The installation was stupid-easy.
Results:
I'm 6'2" with a long torso, the Rubi lumbar support hits very low, the Corbeau bladder allows me to extend the area of support higher up. Prior to installation, my back started hurting after 30 minutes of driving, with the additional support most of that pain is gone; I still have a little pain, but it's much better than without. Heat will most likely alleviate the remaining pain.
Installation:
1. Remove 2 elastic loops on the bottom of the seat
2. Lift up lower seat back flap (that used to be secured by the elastic loops), find and remove 2 screws near the bottom of the seat back.
3. Push seat back down to expose some plastic clips at the top of the seat cover; once these top clips are exposed, pull on one side of the seat back, it should come off easily.
4. Look for 2 metal clips that may have fallen to the floor, these are anchors for the screws from step 2, make sure to re-seat these.
5. Make sure your stock lumbar support is retracted to make room for the new bladder; insert the new Corbeau bladder between the plastic structure of the seatback and the seat cushion, secure top of bladder to top plastic spine of seatback structure using some STRONG zip ties, not included with bladder.
6. Carefully route the inflation bulb to side of seat.
7. Reinstall seatback.
There are online reports of hoses coming off similar lumbar kits, so before installation I zip-tied all hose connection points.
There were also suggestions to use a plastic backing plate between the seat structure and the bladder to direct all force forward, I used some 1/4" rubber sheeting.
Last edited: