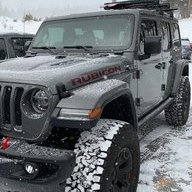 Joined

Jan 17, 2018
Messages
Reaction score

653
Location
Vehicle(s)

2018 Sting Gray JLUR
I've always thought having the turn signals visible to the sides via a side marker is of huge benefit safety-wise when making lane changes, etc. Really wanted to add the turn signals in like they come on the Euro-spec models and finally took a crack at it this weekend.
For starters, my US-spec JL had power/heated/blindspot monitor mirrors to begin with.
I ordered the Euro-spec version of the mirrors that had the same specs power/heat/blindspot + turn signal indicators. Thanks to
@RocketScientist
for the help with getting the part numbers. Anyone interested for these specific versions of the mirror they are:
Right 68281902AD
Left 68281903AD
(Last two letters may be updated to new rev like AE or AF)
These part numbers above include the following options:
-blind spot (XAN)
-black texture (LE4)
-heated (GTB)
-turn signal (LES)
The big question was would the wiring be present?
All indicators I could find from speaking to others as well as my research on Tech Authority showed the turn signal wire would NOT be present. This turned out to be correct, it was NOT plug and play. The other features (heat/blindspot/power) worked plug and play since that was already on my JL from the factory, so just the turn signal wire needed to be run.
The indicator is grounded already through the mirror
so you don't need to run a ground.
I ran a wire from the front LED turn signals (the green/white striped wire was tapped on each side) for each respective mirror. Wires were run into the cab, into the cloth wire harness and into the doors up to the mirrors. I added disconnects at the mirrors and at the doors for door removal.
With the mirrors, the blue/black wire is the one that needed to be routed for the turn signal feed. I pulled the wire out of the mirror plug, added a connector to it, and plugged that into the turn signal wire I ran up to the mirrors.
Very happy with the results. Also the Euro-spec mirrors have different convex areas than US-spec, they both have convex areas on the outer parts. I found this gives a huge improvement in visibility on the driver's mirror especially.
Install took me about 4 hours for the first side just figuring things out, testing, finding the best way to do it, and then only about an hour for the second side. I removed most of the clips for the fender liners on the front to have access to the wiring there.
Another option:
is to purchase and add the lights only + new covers on your existing mirrors. Apparently when you buy just the covers they come with a semi-glossy finish for some odd reason. I didn't want this so I ordered entirely new mirrors.
Not 100% on these P/Ns but I think these are correct for the lamps, you would also need the covers
Lamps: 68361957AA and 68361956AA
Covers: unknown (if anyone knows PM me and I'll add them here)
Photo of the parts/glossy covers from this method from
@RocketScientist
Last edited: