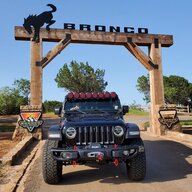 Joined

May 18, 2020
Threads
Messages
Reaction score

260
Location
Vehicle(s)

2002 TJ : 2021 JLURD
I know this discusses the Bronco, but I need Jeep owners opinions please.
I will be one of the few getting a Bronco Raptor this year (was one of the lucky early reservations that got selected). First, I had initially ordered a Badlands Sasquatch to compliment my JLURD. When the opportunity came to order the Rapter, I jumped at the chance. I've never owned a specialized and limited edition version of any vehicle and to actually obtain one at MSRP is almost unheard of. So I have a few possible choices.
If I decide to keep the Raptor...
I'm concerned about the width....we're rock crawlers and don't have much access to desert or open running. However I know lots of jeeps with wide axles that seem to do excellent.​
​
I would really want to wheel this thing. Think it would be fun to have challenges with the JLURD (lifted and on 37's). Although being a unique and somewhat rare vehicle I don't think I will drive it as much or as hard as the jeeps, defeating the intention of the vehicle.​
​
I have no intention of selling either jeep, so that leaves me with 3 off roaders. It's difficult deciding which one to take now when we can only take one. (I know...first world problems!)​
​
Get the Raptor but wait for Broncos to become more available and trade for the Bronco I had origionally ordered. Although this still becomes the 3 vehicle problem.
​
I could simply trade it in for a large profit on another non off road vehicle (wife really likes the Grand Wagoneer)
I could sell to highest bidder and use the proceeds to continue building my never completed JLURD and TJ.
​