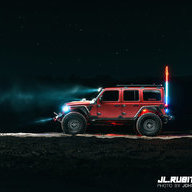 Well-Known Member
Rock Sponsor (Level 1)
First Name

Todd
Joined

Apr 18, 2018
Messages
Reaction score

531
Location
Vehicle(s)

2020 Gladiator, 2021 392 Rubicon
Occupation

Jeep Customizer
It was requested that I bring this thread over here that I posted in the 6g Bronco forum.
Theres no cliff-notes for this. Read it or pass.
For the last 10 years I have been a Jeep enthusiast. Starting with 2 Grand Cherokees (wk2 platform) Which I heavily modified, at least as far as was reasonable at the time.
www.wk2project.com
.
After that, I jumped in to JL Wranglers both as a hobby and then as a builder.
www.jlrubitron.com
The 1st Wrangler Build.
www.thecustomjeepbuilder.com
The Passion
www.doetschoffroad.com
The Shop
I am currently building my own Bronco Badlands for SEMA 2021. I will also be building for the show a 1st edition SAS, a Wildtrak SAS and another Badlands.
My Badlands (non SAS) arrived Friday so here is the initial impression of the vehicle itself, followed by a more direct comparison to Wranglers.
Initial impression Day 1-
Looks:
Looks cool. I appreciate that while they were certainly using the Wrangler as their model, there are a ton of important physical differences that give it its own personality strictly from a visual perspective. Interior is definitely nice to look at and be surrounded by while driving. Seat design and bolster are comfortable and attractive. Gauge cluster is a bit weak with top off and bright outside. Not a huge fan.
Materials:
Seating, Skip the vinyl. Not impressed and gets VERY hot. Plastics in most places are very cheap (too cheap) too thin. "Oh shit" handles are too loose and flimsy to be a reassuring handle. Rear cargo plastics are very thin and off. There will be a lot of things that will come loose and make noise/rattle over the 1st few years of ownership, especially if used. Semi-normal in this segment, but if they wanted to excel they could have spent more time here.
Engine/Trans:
I chose the 10spd/2.7 setup so I cannot speak to the other. While there is certainly some significant lag off the line the rest of the powertrain is quite nice. I cant imagine it with less power, (2.3) but like I said, I dont really know. It has, for its size, great around town power, passing power and fantastic gearing all around. It also really knows its place when offroading in different slow and fast situations but ill dive back in to that later.
Soft Top:
I like it. I dont care for the look of the rear flap but thats my only major gripe. Taking the windows out (and back in) is straight forward. The positions of opening it are nice, and the "click" to secure it when its all the way back is nice, although it still makes some noises. Removing it completely is easy, as long as you are two tall-ish, strong-ish guys. My 5'9 16yr old kid gave it his best but scraped my roll bar on the way up and out. A bit noisier than expected.
Audio:
I did not opt for the upgraded audio. BIG MISTAKE. Its really horrible. Really.
Day 1.5 real world driving
Put about 120 miles on it in the 1st day, mix of city and highway. I loved it all. Drives fantastic. It does drive BIG. If you are coming from a Jeep, a small SUV...this will feel big and wide. Bigger and wider than it really is. 1st time through tight parking lots etc youll be a bit more careful as you learn it. It felt as wide as my full size trucks. In traffic (even though it seems like it takes up the whole lane), its actually quite nimble. it glides around the road effortlessly. It likes faster. Everything with this platform seems to reward a bit of speed and momentum. Slow speed turns are a lil more awkward and require more steering effort than most in this segment. 10 spd! 10 spd! 10 spd!!!! Absolutely fantastic transmission and programmed perfectly IMO.
Day 2 off-roading. Basic Trails. (With 12 Wranglers)
So today I took it on a couple of trails mostly rated in the 3-4.5 out of 10. I spent 7 hours wheeling around Arizona at Butcher Jones, the Rolls OHV, and Bulldog Canyon. This is mostly basic trails with loose dirt, rock, river rock, banked turns, a few hill climbs, a couple of waterfall decents and some really fun high speed sandy washes.
The Bronco really shines in this category. Again, Ill make comparisons later but just straight impressions here. The 4wd modes/GOAT is all fairly intuitive. Its nice that if you shut the Bronco off on a break, it will ask if you'd like to resume that same mode at startup. Yes, thank you I do! I spent a majority of the day in 2wd, but used 4hi/baja as well as 4low/rock crawl as well.
The Bronco soaks up everything. The IFS and Bilsteins were clearly in their element.
On the trail at and avg of 13mph things were simple, comfortable and enjoyable.
The Hill climbs I mostly used baja and momentum and it conquered them all without breaking a sweat. One hill climb had very loose rock at the top 1/4 of the hill as well as a very high angle. It did require 4lo and both lockers but once engaged it pulled up it like it was nothing. It did take a bit longer to engage than I cared for though.
The washes. Oh my. It is very hard to unsettle this Bronco! Baja engaged and foot to the floor. The electronic nannies allowed a perfect amount of "fun-having" while keeping it all well balanced. Ruts/woops were very much welcome and soaked up by the suspension much better than expected. I have a Ram TRX as well so this is high praise. The Bronco had poise throughout all of the paces I put it through. I very much want to run a wildtrak through this same section.
OK, so how does it compare to a Wrangler?!?!
Dammit...I really wish this wasnt a question, because it SHOULDNT be. Yet here we are.
-It is NOT a Wrangler. Stop the comparisons, stop the wiener measurements, stop the hate. They are different and thats a good thing! The Bronco 100% has better daily driver manners, there is no question. The Bronco definitely enjoys high speed anything more than the Wrangler. The Wrangler 100% excels in Rock Crawling. Everything else comes down to a matter of opinion. They arent the same nor were they meant to be.
-GO OUT WITH WRANGLER GROUPS! If you do not come from an offroad background, the Wrangler guys will teach you alot even though they are vastly different. Other IFS rigs (tacomas and the like) honestly do not hold a candle to the Bronco and in most cases you can run similar lines to the Wranglers. Plus theres lots of them doing lots of things. Be friendly, we do not bite. Whatever trash talking you hear at 730am at the trailhead will be gone by 9.
-The Bronco both fills a gap, and takes away some of Jeeps thunder. A large majority of Wrangler owners have Sports and Saharas. They are still very capable off-road, sans lockers and low range. They have great articulation (especially once modified) that allow them to do so fairly difficult things easily. Rubicons are a different creature and at the end of the day whatever level Sasquatch you get stock vs stock or modified vs modified will never be able to rock crawl (7 and up trails) like a Rubicon. Please do not think it will. It cannot. It isnt supposed to (yet).
-The Bronco is a better place to spend time in. It looks good, it feels good. If you are commuting a lot, or love road trips...it wins.
-The Wrangler fit & finish is better all around, and thats not saying much for either of em!
-Bronco wins the transmission war and I really love the JL 8speed.
-2.7 is > 2.0 or 3.6
-2.7 is < 3.0d or 6.4
-The power of the 2.7 and its very smart 10spd is phenomenal offroad both in slow and high speed offroading. The additional tuning changes with the GOAT modes make it enjoyable in all situations. There was really no where I was expecting or needing more power or being in the proper gear.
-Bronco braking is better.
IMO
In my opinion, most Wrangler sport/sahara owners that test drive a Bronco (if they like the looks of it) will strongly consider moving to a Bronco. Rightfully so. Rubicon owners like myself (ones that use them to the extreme) will stay put. But I sure like having the Bronco in the stable!!