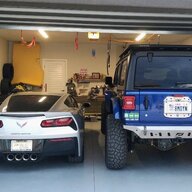 First Name

Mike
Joined

Feb 1, 2018
Threads
Messages
Reaction score

7,697
Location
Vehicle(s)

2021 JLUR 2.0T, 1991 YJ rock crawler
Occupation

I make microchips for a living.
Vehicle Showcase
Here's the short story:
If you off road make sure you have diff cover skids.
Here's the long story:
The axles that come on the Sport and Sahara (D35 and D30) have the differential drain bolts completely exposed on the underside of the diff leaving them VERY vulnerable to being damaged. This is not the case for the D44 that comes in the REAR of the Rubicons but it does apply to the FRONT D44 in the Rubis.

The Mrs. has a '18 Sahara and I have an '04 LJ. We where wheeling at Uwharie on Sunday and we did our usual trails (I think the damage occurred on Dutch John) and then went to the Outpost to air up and then headed home. 40 minutes into our ride home the Mrs. walkies me and says she needs to pull over and that the Jeep is coming to a stop on it's own. By the time I turn around there is smoke puffing out of the driver rear wheel well. I thought it was the caliper hanging up but the brakes were cool. That's when I noticed the diff was wet and the drain plug had literally been ripped out of the housing at a 45 degree angle and was allowing the gear oil to slowly drip out. I speculate that it took 2 hours from the time the damage occurred until she was seized.
The tow truck got there and the rear axle was completely locked as it was pulled onto the truck. The dealer said that regardless of whatever is going on with the bearing being cooked or gears stripped or anything else inside the axle that the fact that the bolt was ripped out was enough to total the entire axle. There is not enough "meat" on the axle where the plug is to drill and tap a new whole and have it be as good as factory.
Cost? New axle plus labor... $4k.
Called Amica because I knew I was covered and the appraiser agreed with the dealer's assessment.
So what happens next? I take the insurance check, add a couple of bucks to it, tow the Jeep to my buddies house and put brand new D44 Rubi axles with lockers in it and build a Saharacon. Ultimately there is a silver lining to this mess but it's a pain to get to it.
Last edited: