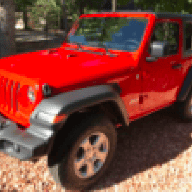 First Name

Darrell
Joined

Oct 8, 2018
Messages
Reaction score

282
Location
Vehicle(s)

Sport S Jeep, Honda Lawnmower
Occupation

Commercial Insurance
Just a little pet peeve of mine. Not pointing anyone out as I would have zero clue who complained about this. Rather it's a general observation that perplexes me. And that is wind noise. Whether it be soft top or hardtop "professional" reviews (you know the magazines) or interpretations of those that are on this very forum.

I cannot stand reading the opinion as a review of the Wrangler being loud. For one, it's a Jeep. It's basically a large brick traveling on 4 tires. Get over it. The new 2018 Wrangler is NOT loud. To me (I have a hardtop) it's the quietest Jeep I've EVER been in. I don't get it. Does anyone expect it to be as quiet as a vehicle that is really not designed from factory to go off road - the MAIN purpose of this Jeep. It's not designed to be a sleek street vehicle. It's just not.

Don't get me wrong - the Wrangler has come a LONG ways since the YJ. The YJ came a LONG way from the CJ's which came a LONG ways from the, etc. etc. all the way back to 1941. I've driven a variety of each (since CJ-5) and owned a TJ that I liked a lot but this JL is amazing in both refinement and "luxury" add on's. I feel the designers have done a painstakingly excellent job at retaining the best of the original looks and yet incorporated the refinement and a modernization of a vehicle. What other vehicles out there have done that without changing the overall look by much? Perhaps the Porsche 911 (albeit they rebadged it entirely). I cannot think of any others.

But that's not what this is about. It's that wind noise. If the journalists or anyone that perhaps dislikes their choice in vehicle selection due to wind noise, well, don't let the door hit you on your way out. That's just not what a Jeep is about. I hated my TJ after a while in town because it drove a bit rough to me but LOVED it off road. With my JL I get to experience that love in both settings. And any incapabilities off road can be made up for in the aftermarket. I like that about Jeep.

I'm done.

Disclaimers: this does NOT apply to anyone with any recall, TSB, or other factory issue. For those - I'd be royally pissed off as well (not at Jeep overall but rather that particular one they messed up building).