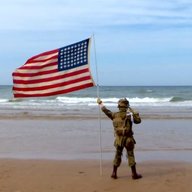 First Name

Michael
Joined

Apr 8, 2020
Messages
Reaction score

192
Location
Vehicle(s)

Granite Crystal 2020 JLUR
Vehicle Showcase
So I'm making the switch from my current 35's to 37's and I was interested in a few different tires.
I've run BFG (KO2's) and Nitto (Trail Grapplers) in the past but I'm tired of taking out a second and third mortgage on the house in order to do so. I DO like the idea of buying Made in USA as I can't stand giving money to China however... the price has to be right.
Well I found a few options but the USA Made option here is an 8 ply and I've always run a 10 ply.
Is an 8 ply up to the task for off-roading vs. a 10 or 12 ply??
Here's what I'm considering:
Option 1:
The same tires I'm running now which have proven to be fantastic on and off-road. E rated 10 ply. Made in Indonesia
Delium Terra Raider M/T KU-255
Option 2:
Ironman Tires, a subsidiary of Hercules Tires USA however, these are Made in ? (not USA). F rated 12 ply.
Ironman All Country MT Mud Terrain
Option 3:
These are also Hercules Tire USA and these ARE Made in USA but are 8 ply.
Hercules Terra Trac M/T
I am leaning toward running the Delium's again since I have history with them and they perform great but for an extra $200 (actually less as they are currently running a $70 rebate) I can get a USA Made tire. But 8 ply? I dunno. Obviously as you can see, the price is right for any of these as I would be pocketing near a thousand dollars by simply skipping BFG's or Nitto's so it's definitely going to come down to one of these.
Anyone have experience with the Terra Trac 8 ply's? I'd love to hear your input. Pros / Cons...