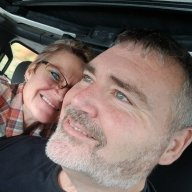 First Name

Ted
Joined

Aug 3, 2018
Messages
Reaction score

13,219
Location
Vehicle(s)

JL Unlimited Rubicon
Occupation

Retired from Corrections....I have stories.
Been a crazy week or so, my wife Carla retired and the next day we headed north with the crew. The plan is to wheel Drummond Island with the crew, then when most of the crew heads back, we would go across the U.P. and head to the most northern part of Michigan and camp on the the shore of Lake Superior.... at the Rocket Range. The Rocket Range was used by NASA in the sixties and early seventies to launch rockets into space.
Read about the Rocket Range here.
Keweenaw Rocket Range
So we head out on the 23 of September one day after Carla retired. The normal crew in tow.
Drive the six hours, jump on the ferry to get over to Drummond Island. Another friend of our left the day before and we meet up with them on the Island. There is very little cell service on the Island to coordinating with them is not easy but hey it is and adventure. It has rained a lot, we get to where Don (the driver of the Cherokee Trail Hawk) and his wife have found us a camp spot for the next four days.
Drop the camper and start a fire. It has been a long day of driving
Gary aka Princess gets to the fire...
Bourbon chicken starry and chicken dumplings.
In the morning Carla goes for a walk with me, then my Bud Bill makes her go for a walk. While they are gone the girls decorate the camper and surprise her with gifts and what not for her retirement.
Breakfast... well did I tell you we eat good.
I know where are the wheeling pics and the Jeeps on the trail pics at? Here we go. So most people wheel the north part of the Island as that is where the badge trails are. We spent Friday exploring the south side of the island. This is the first stop out on shore of Lake Huron/The Straits of Mackinaw. We had planned to camp out at one of the camp spots for the weekend, but had another friend joining us with a pop up camper and we did not think he would be able to get his camper back into the following locations with out damaging his pop up camper.
We could easily camp at the waters edge here.
Even had a great fire pit.
On to spot #2
If you don't know, Drummond Island is kind of rocky.


Gary's Blue Jeep



Gary and Angie just so you know who I am referring to at times. Gary AKA Princess. He is a Lumberjack, tough as nails but a super nice guy who is ride and die kind of people. Love these guys.



Spot #3
A little B&W to mix it up.



As I go through these pics, while they are in my eyes beautiful, they just do not do the place justice. To truly understand how beautiful these places are, you really need to lay your eyes on them personally.


When you come out of the woods and this is your view of the lake..



Driving the Punk'N Jeep is Bill and Missy. I have Jeeped, ATV, SxS and motorcycled all over the US with Bill. When I told him that I was buying a Jeep, he said, "I am NOT buying a Jeep." Nope I tease him all the time about saying that I tell him, "You're not buying a Jeep, you're buying a Jeep, lift kits, wheels, tires, bumpers, winch, campers, and all kinds of other Jeep stuff." He smiles and and says that he should have never went for a ride in my Jeep. Bill is scared of hight, so when we wheel out west, his limits are pushed, sometimes, Carla or I will have to go back and drive his Jeep where there are big drop offs. LOL.







The end of day one. The real wheeling starts on Saturday. We have more friends that join us, one with a JKU, and one with a lifted 4Runner. There has been a lot of rain and the Jeeps are dirty at the end of the day.