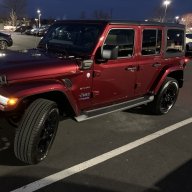 First Name

Steve
Joined

Mar 17, 2021
Messages
Reaction score

84
Location
Vehicle(s)

2021 4xe Sahara
if I recharge every night my range could be thousands of miles between fill ups.
Funny you should say that... I just logged my first 1,000 miles and have not yet been to the gas station.
I picked up my 4xe from the dealership the evening of April 3. I hit exactly 1,000 miles on my odometer as I pulled in to my garage after the last trip of the night on May 1. I'm a fairly standard driver of around 15k miles/year. That normally includes a few annual road trips.
I plug in for free when I am at work, and pay $0.13/kWh for electricity when I plug in at home every night (See earlier posts for details).
Stats:
798 electric miles
202 hybrid miles
...with 3/8 tank of gas from the initial dealership fill-up remaining.
The longest trip I've taken so far was for a local soccer game (40 miles each way using hybrid for the entire trip).
With VERY rough numbers, my costs are equivalent to better than 32 mpg — even assuming I'm paying for ALL electricity charges (which I'm not).
I'm using very conservatIve estimates. If anything, I'm actually doing significantly better than 32mpg. I can bore you with the methodology of this if you're interested. It's fairly straightforward, but takes several steps.
I will be tracking actual kWh charging — and an actual fill-up, once I need gas — over the next 1,000 miles so I can provide more accurate info.