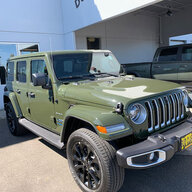 First Name

Dan
Joined

Apr 26, 2021
Messages
Reaction score

100
Location
Vehicle(s)

2021 Sahara 4xe >-- Bluebird Wanderlodge PT-38
I'm the proud owner of a new Unlimited Sahara 4xe, which I picked up on Tuesday in Seattle, and then drove 20 hours home over the next two days. Here are a few thoughts. This is my first Jeep, so definitely a newbie here.
It's comfortable. Even after two very long days, my 56 year old body felt well cuddled by the very comfortable interior.
It's quieter than I thought it would be. My other car is a Tesla, and no, the 4xe is not *that* quiet, but ... the ICE was on the whole way home (of course), and it was hardly noticeable. Yes, plenty of wind noise, but even that was less than I expected.
It's powerful, but ... you know this already. Plenty of fuss-less, confidence-inspiring torque.
The visibility is wonderful -- far better than my Tesla with its oversize headrests blocking the rear window. By comparison, the visibility in all directions from the Jeep's driver's seat is amazingly good.
If I was going 75-80mph on I-5 keeping up with traffic, MPG started out around 20, but by the end of the trip South, 18.5 was reported.
Steering is decidedly un-Tesla. I found that frequent corrective inputs were needed. I know some people have had steering issues. I'm hopeful I'm not one of them. Once I got home, I looked at the amount of wiggle in the steering wheel, and there's basically none. Perhaps one of you will take mine for a test drive sometime and let me know whether its normal or not. The steering box under the hood is black, not silver.
One disappointment was the adaptive cruise control. It worked, for sure. But there was not much finesse to it, perhaps because it doesn't have enough situational awareness yet. For example, when behind a vehicle on the highway, it adjusts speed very well. However, if you then signal left to change lanes, it will speed up a little, then 1/2 way through the lane change, it will somehow "re-notice" the car it was following in the old lane, and think "oh crap, we're getting too close", and decelerate. A moment later, with lane-change complete, it then thinks "oh what was I worried about, there's nothing here", and pick up speed again. With maximum regeneration on, the deceleration and re-acceleration are abrupt. Similarly, if there is a vehicle in the lane into which one is changing, and it is closer than the vehicle we were following in the old lane, it gets worried and decelerates. Although it might sound like that's a good behavior, it would be nice it it recognized when the vehicle in the new lane was pulling away (because it is going faster than the Jeep), and simply let the situation improve without decelerating. My Tesla manages all of this very well, and I was surprised that the Jeep wasn't a bit more capable in its ACC. Still, it's a great feature and I'm glad to have it.
Pushing the max-regen button every start-up is a nuisance. Hopefully Tazer or Jeep will have a fix for that soon.
Overall, I'm really pleased with my purchase, from Phillip Olson of Bud Clary Auto Group in Auburn, WA. That name, along with Rob Trachtman here in Orange County, were two names obtained via other posts in this forum. Around here, prices for on-the-lot 4xe's are very high, and I had heard that these two gentlemen would treat me right with pricing. Both of them did, but Phillip Olson happened to have a unit on his lot that he would sell me for the same discount as an ordered-in unit "if I bought it by tomorrow" (which was the end of last month). The unit he had met my needs, so ... I bought it. He suggested someone to deliver it to me, and the delivery was arranged, but it fell through at the last minute, and I decided to pick it up myself, after a year of COVID shut-in. I'm glad I did. The 1150 mile drive south through WA, OR, and CA was amazing.
Many "Jeep waves" on the way home.
Thank you Jeep, for continuing to improve this amazing adventure machine. Thank you JLWranglerForums contributors for all the information that led me to this purchase. And thanks to Phillip Olson and his team for making this a wonderful purchase experience.
-- Dan
[update added 05/23/2021: Over the last couple of weeks, I've grown comfortable with the steering. Also, the around town "gas mileage" (which includes electricity -- I charge overnight) is about 32mpg. Tazer has allowed me to latch the max regen button (thank you!). I've added Maximus-3 Tow Loops (a 30 minute job that took me 6 hours and two trips to Home Depot for tools that I needed an excuse to buy anyway), a Curt flat-tow wiring harness (very easy to do), and am half way through the proximity unlock install (I have the door handles all on, am about to start the wiring). Am still contemplating wheels, tires, bumpers, but have not pulled the trigger yet. Thanks to all for helping to make this a fun journey. -- Dan]
Last edited: