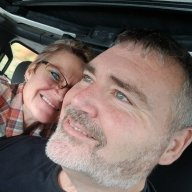 First Name

Ted
Joined

Aug 3, 2018
Messages
Reaction score

14,687
Location
Vehicle(s)

JL Unlimited Rubicon
Occupation

Retired from Corrections....I have stories.
So over the holiday weekend, things fell in place and we loaded up and headed from Michigan to Virginia, North Carolina and West Virgina so get three badge trails. We camped the whole time and had a blast. One of the normal cast of characters did not go with us as he had surgery recently and was not healed up yet. He is good now, but the Punk'N Jeep was absent.
So the cast of Character are my white JLUR with the 1941 on the hood.
Amanda's white JLUR
Phil's Stringray Grey JLUR
and Gary's BLue JLUR..... this was his honeymoon also. So you know his new wife is cool, because the conversation had to go like this: "Hey Ted is Jeeping and camping out of state, lets go and where there is no potties, and not shower for days, get dirty and spend 12 or so hours a day in the Jeep for 5 days straight. At least the food will be good." Then she must of said: "Fuck YEAH, lets do it."
So the first day was a lot of driving as there is just no real good way to get to the George Washington National Forest in Virginia from Michigan. We got there set up camp, had dinner, and then did some night wheeling up to the Fire Lookout Tower.
So we start in the dark
Phil has the fancy lights to set up camp to
As does his daughter Amanda. More on Amanda... soon.
People, I hate them at times.
The tower was a little bit of a hike in the dark, but I have good flashlights.
We had a good view of the local town from the tower and got to see the night sky.
The moon was kicking it behind some clouds.
The camp sites in the George Washington National forest were very nice and clean......and free. The best kind.
We dove all the way here to run the Peter's Mill Run badge trail. The trail was pretty, but no challenge. It was like a smooth dirt road. We did not even air down. The trail is rated as a 2-4 level trail. It can be driven in 2wd at a good clip.
At POV shot. I really need to mount my radio somewhere. The throw up on the dash is getting old.
Have I said that I love have a Bestop Sunrider yet. I have no affiliation with Bestop, just love the sunrider and would buy it again. I flipped it back so I could snag this shot.
My adventure girl, Carla taking in the sights. We are also coming up on our 31st year wedding anniversary. She rocks. She says things like, put 40s on the Jeep, maybe we should do a hellcat swap.....
This was about the hardest spot. It was a slgiht down hill or in our case, we are headed back so a slight up hill.
We went back up to the fire tower during the day after finishing the trail. I noticed that Brittney was put on notice.
So I would not drive ten plus hours again to run this trail. The camping was awesome the trail.....well it was just okay. No real challenge, but I did get the badge. If you have a stock Renegade, or a stock Subaru, you can easily run this trail.
Then we were off to the Uwharrie National Forest in North Carolina. So there is more to come.