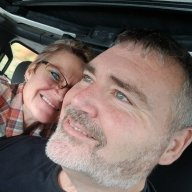 First Name

Ted
Joined

Aug 3, 2018
Threads
Messages
Reaction score

32,831
Location
Vehicle(s)

JL Unlimited Rubicon
Occupation

Retired from Corrections....I have stories.
Well one of my Jeeping bud's wife called my wife and said that they were staying in a condo in Florida for two weeks and that if we wanted to join them for a week, that they would put us up at no cost. Well fuck can't turn down a free week of lodging in a nice condo in Florida. I check airfare and hey $68 for a round trip ticket from Detroit to Orlando. Got to go.
Then I get thinking, hey, fly the wife down, I leave a week early and wheel in Georgia, Alabama and Florida. Hit up my normal crew and see if they are in. Bill with the Punk'N jeep is in for Alabama and then will return home, Phil in the Sting Ray Grey jeep tell me that he is already going to Florida to house shop for a 2nd home and to visit his parents so he is in and Gary in the Ocean Blue Jeep says hey the load restrictions will be on the roads, so he is in and he will fly his wife down with my wife and then go do their own thing.
Well wheeling in Georgia does not pan out. They close down the badge trail for winter in Georgia...wtf? Figure this out a few days before we leave. No big problem, we will just wheel more in Alabama. Go out into the National Forest, hey what ever...... Well not much wheeling there either.
Well on with the story as it unfolds. Lucky for me my normal crew is low drama and we have a great time.
March 1st 630 AM is go time. We are leaving the campers at home and if weather treats us right, we will camp if we can and stay in hotels when needed.
Gary shows up early...530 am and just as I try and get momma in the mood, she say did someone just pull into the driveway???? Fuck Gary is an hour early. Everyone is at the house, coffee mugs filled up and ready to go at 630 AM.
Of course Gary is an hour early, but did not gas up so our first stop is 20 miles down the road so Gary can fill up. Gary is getting blazed good on the radio for cock blocking and needing fuel before we hit the highway.
We make it to Nashville TN. for our first stop that is not for fuel.... I had to push them a little bit as they wanted to stop earlier, but told them that we are going to the place that had the best rated Nashville Hot chicken in Nashville, It was awesome and worth the wait. We need the break from driving anyways. It also eased the pain when I picked up the bill.
Make just over the boarder into Alabama for the first night. Walk outside and say that a nice car, but the JLURs parked off to the side will be way more fun.
It is Tuesday, and we have two full days to burn because the first set of badge trails are in Stoney Lonesome OHV park and it does not open until Thursday..... or at least that is what the Jeep badge of Honor apps states, and Google states.... More to come on this.
We head out into the Bankhead National Forest to explore the forest roads and trails. Pass a very clean Jeep truck that according to Gary is kind of rare do to a special feature that was on that truck
Finally, we are going to do some wheeling.
Well after cutting our way through about 10 or so down tree spots and burning up two tanks of gas in the chainsaw, Bankhead was just not panning out as a good place to wheel. I was surprised at how poorly the place was maintained. You could easily spend a few weeks there just on the trails we tried to run picking up trash. We finally made it to the trail that we planned to run. Yup, it was gated off and closed.
Luck was with us though as an old guy.... older than any of us.... pulled up and chatted with us for a bit. He showed us some cool spots to hike so off we went for a two feet adventure as the wheeling thing was just not pinning out
More to come. It will get better. I have a bunch of GoPro stuff and drone stuff to come. Stoney Lonesome is a cool place and the people that work there are awesome.