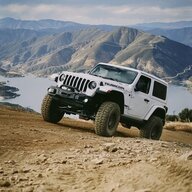 First Name

Jesse
Joined

Aug 23, 2019
Messages
Reaction score

887
Location
Vehicle(s)

2019 Bright White 2dr JL Rubicon 3.6
thanks for the clarification. That's kinda what I meant ... although I wouldn't use the word 'symbolically'. the 392 does not have the FAD system at all - it is deleted. But, to your point, the hole in the housing is still there. Not sure it's weak, though. Weaker than a full tube? I would think .. relative. I'd certainly rather it be a solid tube.

That said, I haven't researched failures of the housing at the FAD opening. Maybe that's an issue I'm unaware of???

great to know it is actually a one piece axle and not collared. That was one of the big questions I'd wondered since it was brought up earlier.
This is a case of "ask me how I know" - I bent my JLR's front axle at the FAD housing and dropped $4600 on a UD44 to avoid it happening again, and I'm only running 35s. It's a poor design. I ran across someone else in my area who was also seeking a replacement axle for the same reason at the same time, his completely snapped at that area.
The cast FAD housing is the weakest part. You can easily toss upgraded shafts in to eliminate the FAD itself but the housing itself is the weak point. I would at the very least truss it if I were a new Jeep owner.