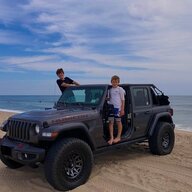 First Name

Tim
Joined

Jun 17, 2020
Messages
Reaction score

39
Location
Vehicle(s)

2018 Rubicon Unlimited, Manual, 35" & Fuel Coverts
Well, the stock wheels are 17x7.5 with +44.5 mm offset. Offset indicates where the mounting surface of the wheel is, in relation to both the face and back of a wheel. Zero offset would be dead center. The higher the number gets on the positive side, the face of the wheel will get flatter. The higher it gets on the negative side, the more sunken in the face gets.

To maintain the factory distance between the wheel and frame, you'll want the extra 1.5" of that 17x9 wheel on the outer face side. 1.5" = 38.1mm. 44.5mm - 38.1mm = 6.4mm.

All that means you'd want nothing higher than a +6mm offset wheel.

One of the many things told to me since I was a very young child, is that the only thing dumb about a question is not asking it.

Cheers!
Great explanation thank you!
So negative offset: more of the wheel is outside center of rim, positive offset: more of wheel is toward the inside of rim. So even with the 9 inch wheel I would be fine getting a zero offset wheel because the Stock wheels are 44.5mm positive offset.
I guess my only question is why are the stock wheels so positively offset on the JLUR? Are the brake lines, etc so fragile that they require that? And has anyone run into problems with debris screwing things up after going to a zero or negative offset 9 inch wheel?