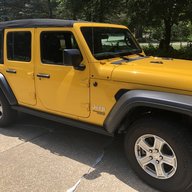 First Name

Mark
Joined

Oct 7, 2019
Messages
Reaction score

296
Location
Vehicle(s)

Hellayella JLU Sport S 6MT, Mazda3 hatch, Forester XT
Occupation

Engineer
Yet...the 2.0T is not offered on JT. So something in the little turbo must not hold up.

It is true that engines can be designed to handle high stresses. But not when cost-cutting is a major factor. After all, this is FCA. They would make engines out of recycled wax if it gave them one extra penny in profits.
Maybe because it's several hundred pounds heavier, rated for higher towing weights off the bat, and in-actual-fact a truck, not an SUV. It also may not have had adequate time to test the drivetrain and/or truck buyers would refuse a 2.0T but Wrangler owners might be more comfortable with it. There's all sorts of legitimate reasons why the Gladiator doesn't have the 2.0 but the Wranglers do. Different vehicle, different market, different buyer, different usage.
And every manufacturer would sell a kidney to save a buck in manufacturing costs. Yet somehow modern turbos are just fine (assuming your Focus RS got the Focus head gasket and not the Mustang one).
I've driven the pentastar in different FCA vehicles and I have a 2.3L eco boost mustang. NA is going to be more reliable because it has less parts and heat compared to a FI engine. That being said, modern day turbos are way more reliable than what they used to make.

If you want an NA motor, buy the pentastar. It might be getting replaced by FCA's new gas 3.0L turbo inline 6 (rumored for 2022/2023 model year). If I had the money to buy a Rubicon right now, I'd probably try and go 2.0 for the extra power to compensate for the extra weight when modded. I'm honestly just waiting for the new engine though. A gas 3.0L inline 6 is going to be a monster and will not have to work as hard as a 2.0L turbo 4 to move a 4500lb box.
Again, fewer part count isn't definite when you're talking I4 turbo vs. V6. Recall double the heads, double the valvetrains, double the exhausts, and all the timing components. A turbo is really not complex. Controlling it via ECU might be, but mechanically they are quite simple.
A nice inline 6 would be sweet, but slapping turbos on that reminds me of the oh-so-wonderful twin turbo E90 BMWs that were.... not exactly the worlds most reliable and trouble-free engines of all time. Reverting to single turbo along with other tweaks made them much, much more reliable.
I guess my point is there's no inherent problem with a I4 turbo vs. V6 - it all comes down to design and manufacturing. If FCA can make their V6 reliable, no reason they couldn't also make a bulletproof I4 turbo. It's a global engine and the Alfa Romeo Giulia seems plenty reliable with the 2.0T. The TTV6 Quadrifoglio is a whole different ballgame.