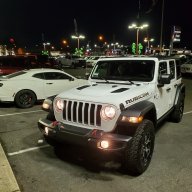 First Name

Aaron
Joined

Dec 20, 2020
Messages
Reaction score

44
Location
Vehicle(s)

2021 Wrangler Rubicon V6 6spd Manual || 1989 Toyota Pickup 4x4 SR5 V6 5spd Manual
Hey All,

First off, I love this Jeep! I'm coming from a 2019 Camaro ZL1 1LE and I thought I was going to miss the power and handling but I don't -- I'm too busy enjoying the high driving view, utilitarian feel, and infinite customization -- it just feels more me.

I'm experiencing two things that may be unrelated.

#1. Hesitation / "Hiccup" often while maintaining speed or light acceleration around 3rd gear & 3k. It feels like a 1/4 second cut in power. It's not super jarring, if you were not driving you'd just think we drove over a tiny bump in the road but you can feel it. It is pretty random, not just when the engine is cold -- it happens when cold and at full operating temp.

#2. Slightly rougher than expected idle? This may just be a characteristic of the engine that I need to get used to but it feels to me like the entire car vibrates a mild-but-noticeable amount when idling. Idle appears to be about 700rpm give or take.

I have about 1200 miles on the clock, 100% stock and thoughtful brake-in.
It's a manual transmission, no real load, just me and my wife and daughter.
I live in California and the weather has been clear and mid-50s.
I've been putting 91 octane in it only because I'm still at low mileage, i'll probably switch to 87 soon.

I'd appreciate any insight from you experienced Pentastar 3.6L owners.

Thanks for your help!