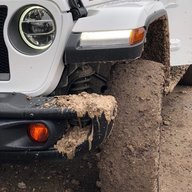 First Name

David
Joined

Jan 29, 2019
Messages
Reaction score

3,058
Location
Vehicle(s)

2020 JLUR 3.6L
Or you could run a jumper and disconnect ESS negative and just run the Jeep with the one battery but I don't believe that the one battery will support using ESS as it's designed but if you disable ESS kicking in by what ever means it should run fine on just one battery
This is what I am getting to....... it's about jumping the Jeep.....
'the are folks who swear that you cannot jump a JL with a battery jumper IF you have a totally shot Aux battery. IF that's true, you MUST jump with jumper cables, they say...... it is also said that you CANNOT start a JL if the aux battery is not connected or dead.
however, if what is said in the last few posts is true, all one needs to do is disconnect the aux negative cable and jumpy the JL with "whatever method" you choose. Then, push the ESS off button and drive to the dealer to get a new battery or something (forgetting about the n1/n2 jumper solution for a moment.... assume that you don't want to do this).......
If all of this is true, it's a huge insight to me.......