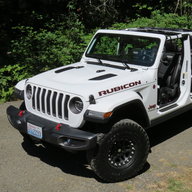 First Name

Matthew
Joined

Oct 12, 2019
Messages
Reaction score

312
Location
Vehicle(s)

2020 Wrangler Unlimited Rubicon EcoDiesel
This post is about my experience regarding my 2020 JLU Rubicon EcoDiesel and the warranty engine replacement that my local dealership just completed. This post includes both objective, factual information about the issue, as well as my thoughts (e.g. frustrations) about the whole experience. Portions of the post about my experience are marked with **. Feel free to skip.
TL;DR summary:
Manufacturing defect on my engine block.
Miserable dealership experience.
Jeep Cares was little help.
Timeline of events:
April 2020: Purchase
May 2020, ~500 miles: I smelled a strong, plastic burning odor and saw faint white smoke coming from the right-front wheel well. That issue was never definitively resolved. At this point, I don't think it's related to the main issue in this post, but I wanted to include it here for reference. I posted about this issue here: https://www.jlwranglerforums.com/fo...ll-any-idea-what-it-may-be.26882/post-1102440
September 2020, ~3300 miles: I noticed a small oil puddle beneath my front differential. I inspected beneath my vehicle and noted that the oil was coming from the engine and dripping down onto the differential.
October 2020, same mileage: My dealership informed me that the engine block had a manufacturing defect and the entire block had to be replaced.
November 2020, same mileage: Received my vehicle back with a new engine.
I initially noticed a small puddle of oil beneath my front differential. It wasn't a lot - maybe 20-30 drops worth. It formed over the course of a few days - so it was a pretty slow leak. My first thought was that was the front differential seal, but I got underneath to check.
Upon further inspection, I saw oil drops forming on the oil filter housing on the driver side of the block, directly above the front differential. The photo below shows the oil drops forming on the engine. For reference, this was taken facing toward the front of the vehicle. On the right is the engine oil pan. On the left is the front differential (you can see oil drops on it) and the front pinion mounting flange and U-joint yoke. You can see a large oil drop forming on one of the round plugs on the housing, and oil residue along the edge of the mating surfaces of the housing body.
** Obviously, this was incredibly concerning and frustrating. No new vehicle should leak any fluids, from any source. Finding an engine oil leak is arguably the most concerning of any fluid leak.
I immediately scheduled a service appointment with my local Jeep dealership, which was early the following week. My vehicle remained parked in my garage until I drove to my appointment. I dropped off my vehicle and explained to the service advisor everything I described in the preceding paragraph of this post. I was sure to explain that oil was dripping down from the engine onto the front differential. A few hours later, the service advisor called me and said they were going to replace the front differential seal.
** I was floored. I couldn't believe what I was hearing. Wait, I take that back. I was hopeful that I wouldn't hear that, half expected that I would, and not surprised that I did. I had to drive back to the dealership and get underneath it with the service advisor to show him the leak in the photo above. I also asked him to feel and smell the oil. Gear oil has a much different viscosity than engine oil, and it has a very distinct odor. Upon pointing it out, he agreed that it wasn't coming from the front differential. Revelation! This is Fluid Leak Troubleshooting 101: GRAVITY WORKS. When tracing a fluid leak, continue going "up" until you find something that's dry. Do *not* assume that the lowest wet component is the source of the leak. Still, two months later, I'm stunned that I had to explain it first, then physically point it out to the "factory trained experts." Frustration is mounting, confidence is diminishing.
I left my vehicle with the dealership so they could put it back on the lift the next day to find the true source of the leak. Three days later I learned that the source of the leak was the seal between the oil filter housing and the engine block. The seal needed to be replaced, but it was on critical backorder for 5 weeks.
** I left my vehicle at the dealership overnight. Or, what I thought would be overnight. Three days later I called the dealership to inquire on the status. Important distinction here: I called them. They didn't call me. After 3 days, nothing heard about an oil leak on a brand new vehicle? And then, find out there's a 5 week part delay? What was their intent? Were they just going to let my vehicle sit in the service lot for 5 weeks? More frustration.
I returned to the dealership and retrieved my vehicle so I could park it in my garage while I waited for the seal to arrive. I did not drive it again until I returned it to the dealership later for repairs. After 4 weeks elapsed (with no updates from the dealership) I contacted
@JeepCares
to see if they could help in getting the seal expedited.
** I didn't have a usable vehicle for over 5 weeks. No offer from the dealership or "Jeep Cares" for a warranty rental or loaner. Just "Here's your car back. Maybe we'll call you in 5 weeks or so." Zero communication from my dealership. I had to return to the dealership in person to get any updates - they simply don't return phone calls.
Once the replacement seal arrived I drove my vehicle back to the dealership for the repair. The next day I called to inquire about status. (** There's a trend here.) The service advisor informed me that the technician discovered a defect in the engine block and that the block itself had to be replaced. I returned to the dealership that afternoon and took the picture below. Note the machining swirl marks in the side of the block. This is where the oil filter mount attaches to the engine. For reference, this picture was taken from the front driver side wheel-well with the wheel/tire removed and the inner fender liner removed.
** I was glad the tech did the right thing and said the block needed to be replaced. He could have just as easily put a new seal on there and sent me on my way. My appreciation ends there. Brand new vehicle. 3300 miles on the clock. ***ENGINE REPLACEMENT*** I know nothing is perfect, and there's always a small chance that any new vehicle can have problems. I don't wish these issues on anyone else - but I admit I was thinking "Why me?!"
I discussed the situation with the service manager. He explained that they could either remove all of the components from the original block and re-install them on a new block, or just order a complete engine. Obviously, I insisted on a new engine. He eagerly agreed. Neither of us liked the idea of building a new engine. The dealership ordered the replacement engine with a projected 10 business day delivery time. I also requested to be notified when the new engine arrived so I could observe the swap.
** Fun fact, kids: you can get a whole new engine from FCA faster than you can get a $2.00 oil seal. Two weeks went by and - no surprise - nothing heard from my dealership. Shocker! In keeping with tradition, I called the dealership. "Oh, the swap is done. We should have it ready to go today." I. WAS. LIVID. Does this dealership *ever* communicate with its customers?!
** During the engine swap period, the dealership initially set me up with a rental vehicle. After a few days of driving a really cool minivan, I called to ask if they had a loaner available instead. They did. So I swapped out for a Grand Cherokee. Seemed like a good swap - until we found fingernail clippings in the door pocket and on the floor, and some French fries and trash under the seats. Classy. Really classy.
I picked up my vehicle after the engine swap was complete. I noted two large scratches on my front bumper. After about 50 miles of driving, the engine appears to be functioning nominally. It's hard to say if there are any leaks - there's still some fluids on the undercarriage from the transplant operation. I haven't seen any fluid puddles on my garage floor, so it appears to be alright.
** When I picked up my vehicle I noticed that the paint was gone from all of the bolts on the front differential. I asked the tech about it. He said he replaced it because the service order said it was leaking. I just shook my head in unsurprised belief.
** My thoughts on the whole experience
If you're reading this post as a current EcoDiesel owner, it might be worth your time to check for oil seepage around your oil filter housing.
If you're researching a vehicle to buy and you're considering an EcoDiesel, I still think it's worth looking at. As far as I know, I'm the only one to post about this issue. My wife owns a 2016 Grand Cherokee with the Gen 2 EcoDiesel, and it has been flawless. That said, I have no idea if this is an endemic problem across the product line, or if I'm just that 1 in 100,000 lucky guy. Time will tell.
My local dealership is awful. I am stunned at their inability to diagnose a problem correctly and communicate with their customers. The tech that performed the swap seemed solid. He's a master tech - their only one. But the tech that "diagnosed" a differential cover leak after the customer stated that oil was dripping from the engine needs to go back for some retraining. I'll drive an extra hour to the next closest dealership from now on.
Jeep Cares is a placebo. It's little more than a corporate apology service. "We tried contacting the dealership too, and left a message. We haven't heard back yet." So, what exactly is it that you do here, Bob?
I'm a long-time Jeep enthusiast. I've owned plenty, wheeled them plenty, enjoyed them thoroughly. But my confidence is shaken. Mechanical failures are inevitable. Even on new vehicles, there's a small possibility that if all of the mating parts are on the extremes of their tolerance thresholds that you can get a problem like this. Rare, exceptional, unfortunate. But what is most upsetting is how poorly my dealership and Jeep Cares handled the problem.
I give credit to Jeep Cares that they contacted me regularly. At least they did that. The problem is that all they said was "We don't have any new information from the dealership." Right. That was the frustration I relayed to *you*. It's not helpful for you to relay it back to me.
I had big plans for my build journal and all that. I may continue. For now, I just have a sour taste in my mouth. We'll see.