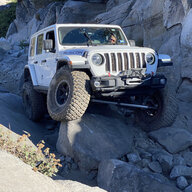 First Name

Bryan
Joined

Oct 21, 2019
Messages
Reaction score

282
Location
Vehicle(s)

2020 Jeep Wrangler Unlimited Rubicon 3.0 Diesel
Build Thread
So I bought a Diesel Rubicon, ordered in October 2019 and delivered in March of 2020. I understand all of the diesels have the D44 front axle (M210) and as its a Rubicon, I figured it'd be obvious.
While waiting I bought some parts for my Jeep, and ended up buying some diff covers among other things. When I finally got the jeep I started installing my parts, and the front diff cover didn't fit. The rear fit with no issues.
What I noticed, is that the front Carrier bolts interfered with the new diff cover leaving bolt head imprints on the inside of the cover. This cover is from Ballistic Fabrication. And I have verified I have the proper front cover for a Rubicon front axle. And Yes, Ballistic Fabrication is a great company and has responded to me very quickly about this issue. Seeing as there and very few 3.0 Diesel Wranglers on the road, this could be something that is unique to the axles these come with.
So the questions are; Is the D44 that comes on the 3.0 EcoDiesel Wrangler different than the gas engine powered Rubicons? Do all Diesel Wranglers have this same axle axle? or is there a difference between the Rubicon and non Rubicon front D44 axle besides the locker or absence of a locker? What does this mean to front axle upgrades like RCVs, regearings, and diff covers among other things?