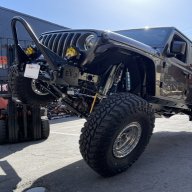 First Name

Ross
Joined

Aug 20, 2020
Messages
Reaction score

288
Location
Vehicle(s)

2021 JL Unlimited Rubicon Diesel
Occupation

Bad Mother Fucker
Drive it for a couple years and sell it before it's out of warranty if you're not happy with the performance or reliability track record.
This plain ole SUCKS BALLS
I live in CA so doing a delete is ultra illegal (may have to turn this thing into an off-road only vehicle; then I believe a delete would be legal)
I bought the diesel for the MPG with lift and big tires and the (what I thought would be) longevity of a diesel truck.
Now that I've spent $70+k on a diesel Jeep (after taxes) and another $50k+ in upgrading every fucking thing other than the powertrain.
The consensus is "drive it for a few years and get rid of it"
No way in flying FUCK is that happening after dumping all this money into irreversible - non movable mods such as an EVO Double Throwdown Suspension fully welded to the frame... with King bumps F&R etc etc etc
Future options:?
A: "stealth delete" route with gutted stock items that look normal & tune and hope like hell it will still pass smog.
B: Leave all this shit in and run a tune that is cleaner than the stock one hoping it will make the emissions shit last longer.
C: Take out large insurance policy to cover Jeep and all upgrades - hope something terrible happens to it.
D: Get rid of diesel motor I paid a shitload for and put in a big V8 which will get absolutely awful gas mileage - this would be the biggest waste $ of all.
Isn't this some bullshit, I thought diesels were supposed to last forever?!?
Guess no one updated that old wives tale with the caveat of "2007 and OLDER diesels will last forever"
Go figure newer diesel = shit.