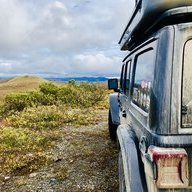 Joined

Feb 5, 2018
Messages
Reaction score

290
Location
Vehicle(s)

'18 JL Rubicon
This is a letter that I've wrote to Jeep and
@JeepCares
. I just want to share with y'all. And here's the Jeep I'm talking about:
https://www.jlwranglerforums.com/forum/threads/my-granite-crystal-adventure-jeep.12378/
----------
First, I want to say I love driving my Jeep Wranger JL Rubicon. I love the adventures it takes me on. It gave me a couple of the most amazing times of my life. So those I really appreciate.
But now to the bad part. I'm starting to get frustrated with the reliability of the vehicle and the customer service of the dealers. I purchased my Jeep in February and currently I have 28,500 miles on it. Yeah, I mentioned that I love driving this vehicle.
I've had Toyotas for the last 15 years and all of them had over 125,000 miles on them. The only time I've went to a dealer is to have a key replaced. Of course, we had to do the standard maintenance of brakes, oil changes, etc. But nothing major has ever had to be done to them. With my current Jeep, I've had three pretty big problems and been to the dealer at least a half dozen times (not for oil changes) since February.
The first issue turned out to be a vacuum pump issue. I was driving from the mountains of Colorado down to Denver and a traction control error popped up. It took the dealer two times to figure out the issue. Until last weekend this issue hadn't popped up again.
The second issue happened with the USB ports and radio. On a road trip through middle-of-nowhere Canada, all the USB ports went out. I was unable to charge any of my electronic devices, including my emergency satellite receiver.
I had to stop to in Grand Prairie, Alberta at the Jeep dealer there. The guy that was in the service department took a look at the fuses and then disappeared without saying anything. 15 minutes later (with all the mechanics running around), still nothing. I asked the head mechanic and he said he didn't know what was going on and he would see what was going on. 15 minutes later and still nothing. Finally, I just left. Luckily the standard plug in worked and was at least able to charge the devices. The radio and USB started working the next day, but still had problems of the radio freezing, USB ports not working for the rest of the trip and they still are very inconsistent. Still they haven't found a fix for this.
Here's the current problem, I took my Jeep in for an oil change/tire rotation two weeks ago. After that I've noticed that every time I go over a bump at highway speeds the steering wheel shakes violently. At first, I thought maybe they didn't tighten the lug nuts, but those were fine. I did take it in again (10/28) and they figured it was the steering stabilizer. So, they ordered the part and hopefully will get it fixed this week.
Now, almost the tipping point for me, I was driving on Saturday (10/20) and all of a sudden there was a bunch of alerts popping up on the dash. Once said there was a problem with the sway bar and that I need to service the 4wd. Then the TCS alert came back.
I pulled over shortly after and called the dealer to speak to a service person to see if the car was safe to drive (I was supposed to be in a wedding two hours a way that afternoon). The first time I called it rang and rang, was transferred to receptionist three times. Finally, the receptionist said she would take my info and they would call me back immediately. Waited 15 minutes and called again. Same story. I explained again that I'm sitting on the side of the road and have to get to a wedding. Again, the receptionist said they would give me a call back immediately. One last time of waiting 15 minutes and called again. Same story.
Let's say after an hour stuck on the side of the road, I had to give up drive the Jeep with all the warnings on. The disappointing thing is that I still haven't heard back from the dealer and it's two days later.
I'm extremely frustrated with the customer service I've received after purchasing a $50,000+ vehicle and am worried about all the problems and money I'm going to encounter and have to spend when I go out of my warranty.