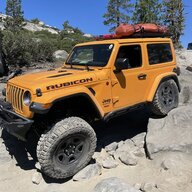 First Name

Russell
Joined

Jul 11, 2020
Threads
Messages
Reaction score

383
Location
Vehicle(s)

2021 JLR
Register starting on 12/7/21 at 11:00AM for the Rubicon Trail.
The clincher for me is the cost. $595 per person with a 2-person minimum...
Then, be sure to wear 37" to 40" tires on your JL - that's all they accept - no 33", no 35". As you all know, 35" will fit a JL Rubicon with no modifications, but that's not good enough for the Jeeper Jamboree USA. Nope. They also require a transmission, transfer case and fuel tank metal skid plate.
For those of you, like me, who have to budget for the additional costs, it looks like this:
5 new M/T or BFG 37" tires at $335 each = $1,675
5 new 17x8.5 wheels (cheap) at $185 each = $925
5 Mount and balance at $30 each = $150
1 new ASFIR aluminum engine/trans skid plate = $355 delivered
1 new Dynatrac kit to raise the Jeep 2" to clear the new tires = $1,495 w shocks
1 new Synergy front track bar, tie rod and steering damper to tame the added weight of 37" tires and wheels = $700
1 alignment = $110
Sales tax = $165
Not counting any added labor to install the suspension
TOTAL: $5,575 in
required
parts (done right - suitable for a $52k Jeep)
​
$5,575 to run 37" tires even though RUBICON is emblazoned across both sides of my hood, plus​
$1,190 entry fee for 2 people even if there's just me​
$6,765
to run the Rubicon Trail. By myself. In a 2021 "Trail Rated" RUBICON
.
​
I simply don't have that kind of money sitting around for a 3-day trip. Besides, I really don't want those 37" tires...
Last edited: