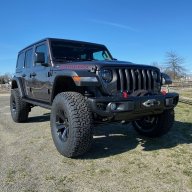 Joined

Apr 4, 2021
Messages
Reaction score

656
Location
Vehicle(s)

2021 JLUR
I find it odd they used a 1.5" lift instead of the Mopar 2" lift. Should we read between the lines and if the 1.5" lift is better will it be offered?
I keep seeing this repeatedly. I think people misunderstand what Mopar and many otter aftermarket suppliers mean when they say 2" lift kit.
First, the Mopar lift kit is 2" over the Rubicon, which already sits ˜1"+ higher than a non-Rubicon Jeep. So now we are at a 3"+ lift. Second, it is 2" on a fully loaded vehicle (steel bumpers, hard top, etc), with some provision for aftermarket equipment (e.g. winch, etc). So that put's you in the neighborhood of a 4" lift if you install it on a non-Rubicon model.
1.5" vs ˜4" is a completely different proposition.
Now, some companies like Rancho and Superlift for example will list different lift kits for Rubicon and non-Rubicon models to better inform buyers.
So, this 1.5" of lift on this Willys, is probably more like ˜0.5"-1" higher than a regular Rubicon. Not even in the ball park of what you'd get with a Mopar lift.