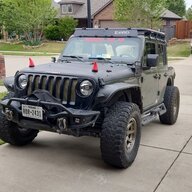 First Name

Greg
Joined

Aug 4, 2020
Messages
Reaction score

3
Location
Vehicle(s)

2020 Subaru Forester Sport
I know everyone seems to be all about the Rubicon or the Sport S, but what do y'all think about the Willy's Sport?
I'm super excited to see the Willy's Sport getting a 3.0 EcoDiesel option this year! I was very annoyed it wasn't available last year, and as I'll be putting in my order in October of 2021, great timing!!
My thought has always been, LESS TECHNOLOGY = BETTER!
I like the Willy's minus all that technological mumbo-jumbo! However the LED lights can stay!
My very first small buy will be replacing whatever larger rearview mirror comes on the Wrangler, and replacing it with a tiny circular one. I'm 6'5", and it seems every vehicle I drive the rearview mirrors always end up blocking my view out the right side of the front window. My brother has a '69 Torino GT with a tiny circular mirror and that's the only car I've ever driven I didn't need to duck down just to see out the right side of the front window. I figure if my rearview mirror isn't connected to the cars computer, replacing it won't cause as many problems.
My first large purchase will be replacing the 35-75lbs doors with 7-15lbs soft doors.
I'm a Mr. Fix-It-Yourself kinda guy... Don't know if any of you have ever replaced a power window regulator, motor, but it's a lotta work and usually pretty expensive. Tryna get to those dang impossible to reach screws! The crank windows on my old '95 F-150; I could replace the whole door lock and window regulator, crank, and glass in 45 minutes or less.
Simply put, I drive my vehicles into the ground, sometimes literally. XD I want to spend less time working on my car and more time killing it on the trail!
So anyways, any thoughts on the less technological Willy's Sport EcoDiesel?