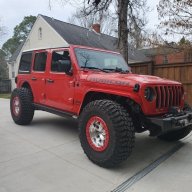 First Name

Joe
Joined

Dec 1, 2020
Messages
Reaction score

85
Location
Vehicle(s)

2021 Jeep Rubicon Unlimited
Hello,
My name is Joe Roberts and live in Montgomery, Alabama. I purchased a 2021 Jeep Rubicon JL from a dealership in North Carolina with the diesel motor In December 2020, with the intension of modifying it over the long term (10 years+) for my son (currently 5 YOA). With the sole purpose so we can work on it together over the years and hopefully he can have it when he starts driving.
This is bold statement coming from a person who has done nothing but buy and sell muptible vehicles over the years. I have owned and worked on tons of things from Mustangs, Vipers, GTR, Hellcats, CTSV, Raptors, Corvettes, etc.. and now this is my 5th Jeep. I have owned 1984 CJ7, 1993 Jeep YJ, 2013 Jeep Jk, 2016 Jeep Jk and now this 2021 Jeep JL. I have modified all the Jeeps except the 2013 Jeep Rubicon 10th Anniversary I had.
So I have started this thread to have over the years and hopefully one day have the privilege of given it to my son and hopefully in still the same love I have for all things automotive. My enjoyment or hobby is the modification of the vehicle, the time researching and working on it in the garage. The interest it brings from others when they see it and looks its brings from something that is just unique and sometimes over the top.
I have never been big in actually offroad driving, mudding or rock crawling etc... to be honest. I think the Starbuck drive-thru jokes are funny and Mall Crawler etc.. Maybe that is something that can change for me over this build and I can make more of commitment to use the Jeep more for what it is built for.
So with that said, here is my Jeep that I purchased back on December 2020..
Doesn't look like this today.. lol.. Started modifying it from the very start.