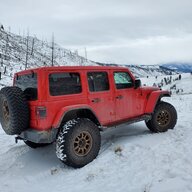 First Name

Roy
Joined

Nov 12, 2019
Messages
Reaction score

809
Location
Vehicle(s)

2020 JLUR 3.0 Diesel (FIRECRACKER RED), 2020 6.7L F350, 2011 QX56, 2005 5.9 Cummins
Yeah we'll have to agree to disagree.
Unless the transmissions are designed differently I don't see how you can say
Completely different ballgame. You must throw every bit of conventional wisdom regarding axle ratios out the window.
What I'm getting from you is that all these manufacturers have got shit for brains and they should be doing it your way. Correct me if that is not what you're trying to convey.
I wish we could order things exactly as we the customer specify. I would even within reason pay a hefty premium to make it so. But I totally understand that the manufacturers make compromises to get the most people closest to the product they would like to purchase.
I understand my response is a little disjointed. You just caught me off guard with this "taller gears always!" warcry you got going on. Lol. I'm sitting here trying to come up with a good analogy to explain why I think putting more stress on the axle gears isn't necessarily the best idea, but nothing is coming to me.