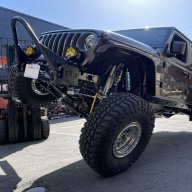 First Name

Ross
Joined

Aug 20, 2020
Messages
Reaction score

572
Location
Vehicle(s)

2021 JL Unlimited Rubicon Diesel
Occupation

Bad Mother Fucker
Edit: Dyno was not recording or reading correctly in these videos. Skip to page 4 for actual Dyno sheet from recorded pulls
So I decided to break my brand new 2021 3.0 Diesel in on a Dyno for optimal performance and piston ring seating. Here are the results.
FCA claims the powerband is at its peak in the 1,400 to 1,600 range. Well the Dyno says much different...
Peak TQ is reached in the 2,000 rpm range on my motor which the entire Jeep is bone stock in this video except the rear bumper is off.
Here is how it breaks down if you play the video in slowmo.
@2,097 RPM I hit 510 Ft Lb of TQ
It only goes up from there until
@2,829 RPM it hit its MAX TQ of 547 Ft Lb
TQ still stays above 500 Ft Lb until
@3,174 RPM it finally falls to 499 Ft Lb
So the entire time from 2,097 to 3,174 RPM it was pumping out over 500 Ft Lb of TQ at the rear wheels. In 6th gear (1:1 on this transmission)
Yes it pumped out 547 foot pounds of torque at the rear wheels!!! Not the crankshaft. This is on a Mustang Dyno which is known to have about a 20% drivetrain loss on AWD / 4WD vehicles as compared to the power at the crank.
Last edited: